I have decided I should have been a sculptor. Working with playdoh for the past 3 years has improved my skills dramatically, I must say. I almost didn't want to try my hand at fondant sculpting but figured if I could make things with playdoh, fondant couldn't be much harder, right?
Here is my very first attempt at fondant. I am pleased, if I must say so myself. First, the fondant I used was Wilton's pre-rolled stuff. I guess that means I don't make it myself? Hmmm...I should research that. It came pre-colored and in little rectangles.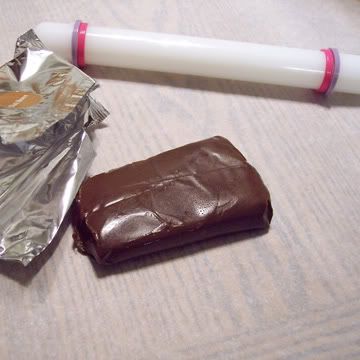 So soft and squishy and fun to work with. And the best part??? Its SUGAR! Much better than playdoh, in my opinion and much tastier as well. (because who hasn't sampled playdoh while sculpting, I ask you)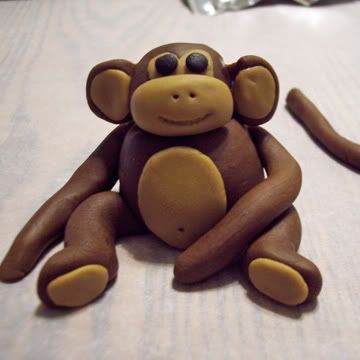 I had a hard time getting her left ear to stay attached to her head. I need to research that as well. I tried a fondant paint brush and water but that didn't work so well. Also, as time progressed, my poor little monkey got shorter and fatter. Still cute but just a little more "settled" than I had imagined her to be. I gotta figure out how to keep the original shape of my fondant. Maybe I am supposed to make all the shapes separately and let them dry before I put them together? I don't know. There weren't any instructions with the Wilton package.
Anyways, I am still pleased with my little girl monkey and will have some pictures of the whole cake later. I need to start icing it now. Have a fabulous afternoon everyone. I shall talk at you later.