I recently took over the job of assembling welcome baskets for our Sunday School class. These baskets are gifted to visitors of our class the morning they attend. I am thrilled at the prospect of this task and having been given my very own creative license which means the sky is the limit with these bundles of delight. (I am still a little unsure if they
really
wanted to give me this creative license because, well, you know me...)
My very first attempt turned into a summertime theme. I am a theme kind of girl. I love themes and matchy-matchy and coordinated efforts and all that jazz. Here are some baskets I assembled yesterday.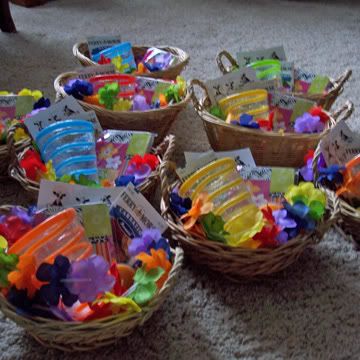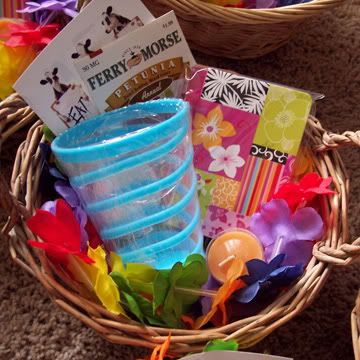 We will be adding in a pocket size New Testament and our Sunday School roster. I also wanted to include a few summertime tea bags. I am thinking
Celestial Seasonings Strawberry
tea might be a nice treat. I can't wait to come up with some fun baskets.
In other news...
I finally picked up my crochet hook yesterday. Yahoo! I haven't crocheted in a few months and my wrist held up pretty well, considering. I crocheted a whole two items. Yay! I feel quite a bit behind on my project to-do list and it felt so good to be able to cross two whole items off it yesterday.
First I made a little overalls using my
Snips and Snails pattern
for my girlfriend who had a wee little boy last week. Little Baby S came home from this hospital this week, praise the Lord, and he is doing well and being completely spoiled by his three older siblings. Anyways, I really needed to get this done for him.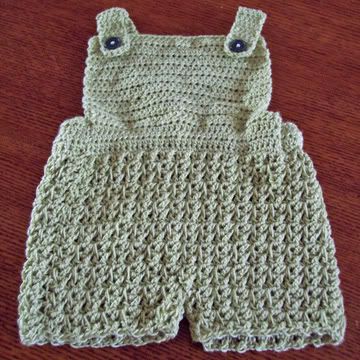 I also whipped up a little doll dress for this new baby's older sister who had a birthday about a month ago. She has a couple of dolls and no doll clothes and I just couldn't let that continue. Every baby doll needs clothes.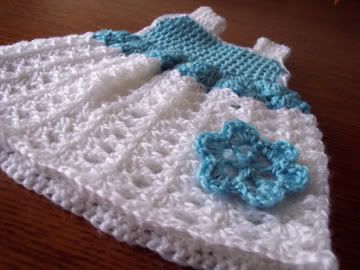 The flower I just whipped up without a pattern. It is similar to the Irish Roses without the additional layers of petals. I will try to type up what I did and post it here eventually.
Today is scrapbooking day at another girlfriend's house. I must now be off to gather up my pictures and supplies. I hope to have a finished album by the end of the night to show you all. I am excited! Have a blessed Saturday and Sunday. Live to glorify God this weekend!