I have determined in my mind that we shall get outdoors more often this summer/fall. It is hard for me seeing as how I don't particularly enjoy driving and am a little shy of new situations and people. But, the fact remains that we need to get out more, thus, I have determined we shall indeed get out.
One idea I had was to make our backyard a little more playful. Currently, it lacks anything remotely exciting, aside from my lovely garden. So Monday, with fun on the brain, Chloe and I headed to Kmart and purchased a swimming pool for $13. What a fantastic investment! We played outside for 3 hours Monday afternoon.
I also recently purchased some freezer popsicle maker thingie-ma-bobs at Micheals for $1 which I poured 100% fruit juice into so we could enjoy something ice cold yet healthy.
Now I have to tell you that it took me a good hour before I warmed up to the idea that I was sitting in my backyard in full view of anyone who wished to spy upon us from their windows. This very notion has prevented me from enjoying my backyard previously. I have an extremely difficult time letting myself loose when people are watching...or if the potential for people watching me exists. But after that first hour I finally let go and we had a fabulous time playing in our pool. (and I even got the flowers watered while I was at it)
Yesterday I decided we should venture out and find a pick your own fruit farm. Oh my goodness. Now that I have tried it, we shall be doing this again and again. I might even look up a pick your own veggie farm and try that out as well. We only had time and money enough to pick 5 lbs of blueberries yesterday, but I have plans to head back and get some of those purple raspberries before they are out of season.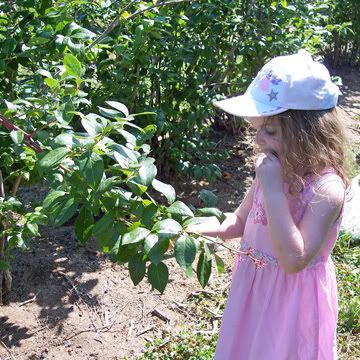 We came home and made two batches of blueberry jam. We still have enough blueberries left over to make a blueberry pie this afternoon.
Before I head outdoors again for another morning of swimming, I wanted to show you just how sweet our new little kitty Twillerbee is. Bumblebee won't have much to do with us unless we play with him, but Twillerbee constantly cuddles with anyone (especially me) and thoroughly enjoys a good petting. I snapped a few cute pictures today of her allowing Chloe to hold and pet her.
And now, my little angel has been so patient with me while I typed this post so I believe it is time to reward her and get outdoors. Have a fabulous day today...all day long. And remember that a little fresh air everyday does the soul good. Take a deep breath and soak in some delicious sunshine.