Isn't it funny how the smallest things can be the ones that teach us the most? I grew more personally in the past 4 days than I have in the past year. At least it feels that way. We are well within sight of this looming deployment and I am reminded that I, once again, must become independent. No simple task for a dependent person such as I, let me tell you. So, our little trip this past week has taught me a bit about just how independent I can be.
You see...while James was in school for the better part of the day, I was free to come and go as I pleased. That's one thing when we remain at home in an area I am familiar with but when we traverse a new part of the country...well...let's just say that I feel a little timid in those areas.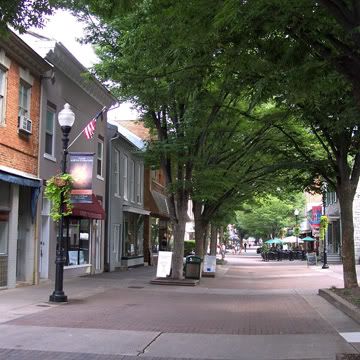 But I did it. I really did it! I feel like a great explorer now. Wednesday I drove down to Old Town Winchester where constructions vehicles and detours abounded. GPS told me to turn left, only to find out that left was a one way street which told me to turn right. With white knuckles and a racing heart, I finally steered myself into a parking garage and there left my beast of burden for a lighter mode of transportation...my feet. I smiled gratefully when at last I spotted my destination.
And what a great place too. It reminded me o
f Storyville but with a science theme.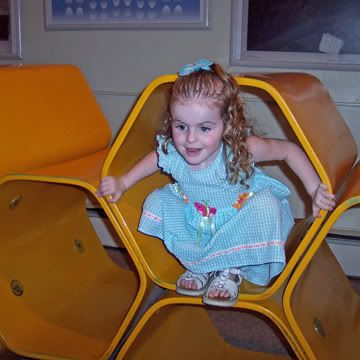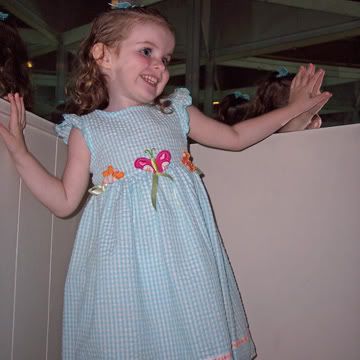 We played for about 45 minutes before a busload dumped out about 100 little kidlets and we could no longer roam freely. That meant it was time to say goodbye and head out to our next destination.
The drive out to our farm market proved worthy. The magnificent houses along this stretch of road seemed to expand and grow before our very eyes until they appeared larger than life. I saw more than a couple with 6 car garages and more. The land rose and fell with the country road and trees, creeks and green, hilly pastures filled the entire valley. It really looked like the perfect location for my dream farm. We found the farm market with ease and Chloe played to her heart's content at the playground.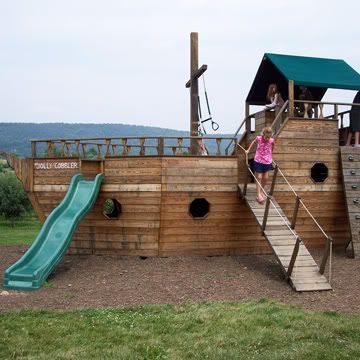 One nap later...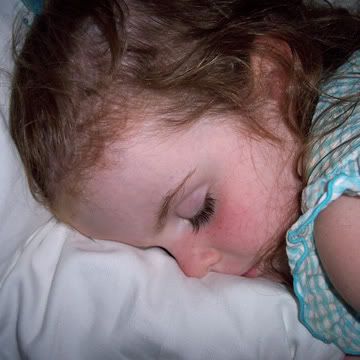 ...and we were ready for a lovely supper at Winchester Thai. James chose the steamed mussels for our appetizer. Yummy with a hint of mint in them.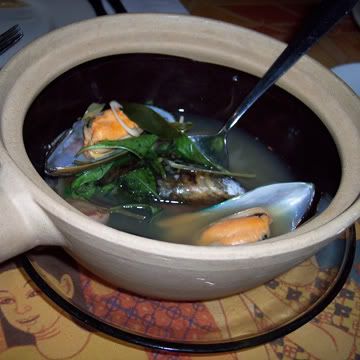 I decided since we were on an adventure that I would pick something outside my realm of knowledge to try. I debated over a couple of items but finally settled on the soft crab with mushroom, black bean and garlic sauce. When they first brought the dish to me, I couldn't recall what I ordered but was sure it wasn't what they set before me. Once I realized I had indeed ordered myself soft crab, I proceeded with trying to consume it. Funny, but I didn't know how. I have never before tried soft crab and was trying to figure out how to open up this crab so I could get at its innards. The hostesses leaned over and quietly asked me if everything was okay. I sheepishly questioned how I was supposed to eat it. She laughed and with her heavy accent explained that it was a soft crab. The crab took his shell off and while he was walking around looking for another shell, they captured and cooked him. (This explanation was complete with movement and motions as if she were the crab. I tried not to laugh.) I could eat the entire thing, which I promptly did.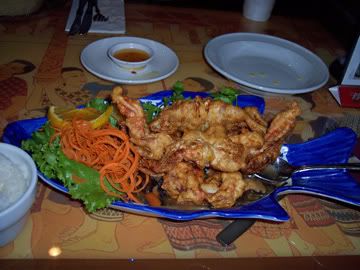 It was truly a fabulous day. I can't wait to tell you about our trip yesterday. For now I must sign off and commence our Friday. It will prove busy indeed as we prepare for James sister and family to visit this next week. I hope you all have a great day. Go try something new that you have never tried before. Even if its something small like adding lemon to your iced tea or pouring fresh cream over your steaming gingerbread. Just try it. You never know what you might learn from such adventures.