Day 12 of our vacation wished us a very Happy 4th of July! Happy belated Independence Day everyone! I hope you and yours were truly blessed as we celebrated our nations freedom. A freedom that did not come cheap. I hope you all remember those who sacrificed so much so we could have this freedom.
So, now for our Boogie down the Palouse. But first, let me tell you who MaryJane is, since I left a few of you wondering yesterday.
My mother purchased a subscription to this most delightful magazine for Christmas this past year. She knew that the farmgirl wannabe inside me would love this mag and she was correct.
Mary Janes Farm
. She's all about organic farming, glamming up mundane chores and romantic farmgirl style (and she uses doilies too.) She wears beautiful aprons for almost every single chore. She has even created wall tents for her
bed and breakfast
complete with white down comforters, linens and antiques.
We started this particular day off in Rockford, WA at Hurd's Mercantile. Who would have thought that a store such as this sits in the middle of a farm town? It was almost my favorite part of the entire day.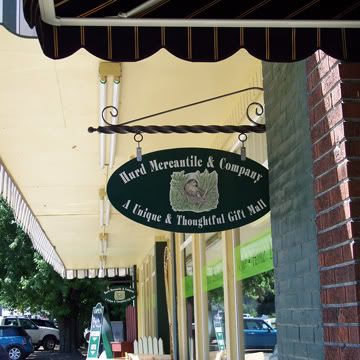 Inside, the store was filled to the brim with farmgirls (and even some farmboys), shopping for those countrified homegoods and waiting for MaryJane to appear and get the boogie started. I saw her climb up onto the store counter in her long dress and boots to announce the journeys commencement. We got out our passports for the store clerk to sign and shopped a bit more while Chloe found a little table to color at.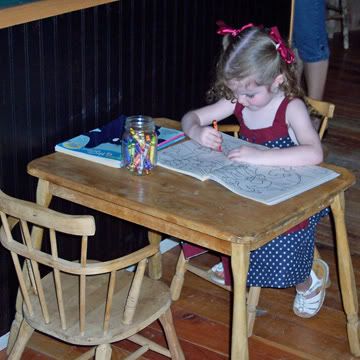 She was having so much fun we literally had to tear her away as she grasped onto the table for dear life. She thought that was the place we were spending the day and didn't really relish the idea of shopping and driving all day long. But we needed to press on, since we had 6 farm towns on our list and our passports needed to be stamped at each town to be entered into the drawing for a $250 gift certificate and a special gift from MaryJane's store. Press on we did.
Next stop, quilt show. Here are two of my favorites.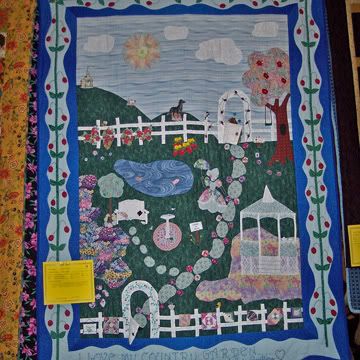 This one was a round robin. 6 different people got a hold of this quilt and added their own items to it. I have always wanted to try something like this but the only person I know who is interested is my mother. No one else in our family would do it with us except maybe my aunt.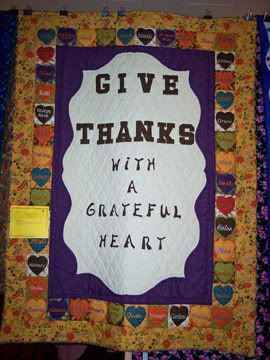 I don't know if you can see them or not, but the big rectangle in the middle of this quilt is surrounded by hearts. Each heart has one or two words on them. They represent things that each member of the family are thankful for. How neat is that? I would love to do something like that with our family. I would add the name of the person to each heart as well so we could remember who said what.
After the quilt show, we headed to the next rural town to see a garden.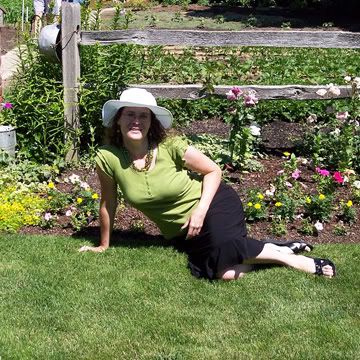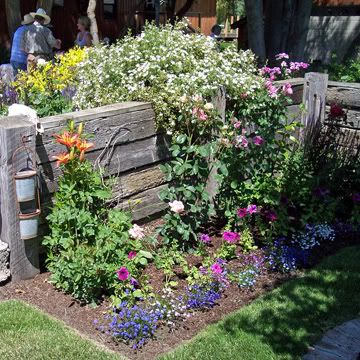 The garden owner served everyone iced tea and we headed up the dirt road to a little quilt shop selling vintage reproduction fabric. Oh...if only I could have bought some...but the line for cutting fabric was too long and I am afraid that things run on a much slower pace in these rural towns. We were getting tired and hungry at this point. I purchased some huckleberry jam from one of the vendors out front and then we headed to Oaksdale where MaryJane owns an old historic mill.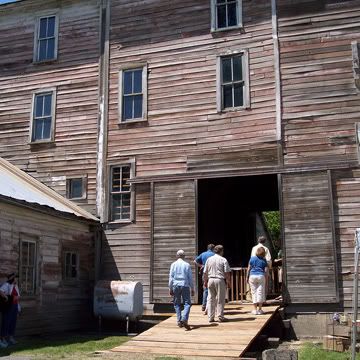 Chloe had her face painted and rode a horse while Mama and I browsed the vendors to our hearts content. We fingered tons of vintage doilies and oh-la-lah'd fantastic aprons and homemade kitchen goodness.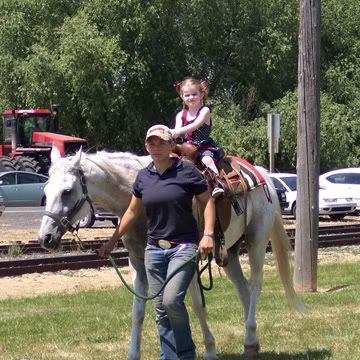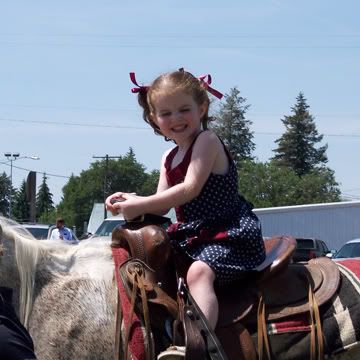 The next stop left much to be desired. One of the stores we hit in the next town had never even heard of MaryJane and refused to sign our passport for us, no matter how many times we explained the purpose of it. We finally made it to the city flag pole where we were greeted with cheery smiles and wonderful homemade brownies made with lentils. (delicious...and I have the recipe so I am going to try to duplicate them someday.) We found out from the flag pole lady that there was a scrapbook barn close by that we might be interested in. Well...at least I would be interested in. So, we headed out of town to find this remote scrapbook barn. And when I saw remote...I mean remote. We drove for a few miles on a paved road which soon turned to dirt. We drove a few miles down this dirt road and soon began to worry that we had passed the place. I mean, as we looked around all we could see for miles was farmland. About the time we were discussing turning around and heading back, we saw a sign by the road for the scrapbook barn. Hooray!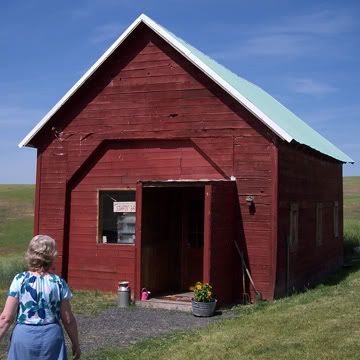 I still cannot believe that we found this place out in the middle of nowhere. One thing it accomplished though was to teach me that even I could live in a rural community and survive. If this lady loves scrapbooking so much that she converted her old barn into a scrapbook store, then maybe I can survive out there too. Ahhh...the farmgirl heart in me grew at seeing that scrapbook barn.
We didn't see anything else in the last two towns that warranted even a photograph so we got our passports stamped and headed home. (not until after Mama treated us all to ice cream...and I picked Huckleberry Dream.) It was a wonderful day followed by food and fireworks at my brother's house later in the evening. I hope you all had fantastic days too.