It felt so great to sit around my parent's house Thursday and not do much of anything. We spent the first leg of our vacation going from one location to another and driving in the car quite a bit. To be able to sit and think and talk and do absolutely nothing was a nice break.
My father tried his best to get that old wooden boat of his in the water but the engine would not start. He tried for two days. It didn't help that when we arrived to my parent's house he wasn't feeling well. Thursday my father said he was running a fever and felt achy all over. I kept telling him to take it easy and rest and not to worry about that silly boat but he really wanted to take us around the lake in it. God had other plans though and Daddy never could get that engine started.
So, after thumbing through some of my mother's magazines we found inspiration for a great many things...one of which was MaryJane's ChillOver. I first saw it in MaryJane's Lifebook which I had rented from the library a few weeks ago and have been dying to try it. I love jello! I thought I would pick some up from MaryJane's store while I was there instead of paying for them to ship it to me. Well, lo and behold, my mother possessed some of the much coveted
ChillOver powder
in her pantry. We experimented a bit to come up with a recipe that did not include sugar.
We used one packet of ChillOver powder, 1 and 3/4 cups apple juice, 1/4 cup cranberry nectar, 1 cup of quartered stawberries and 1/4 cup blueberries. We used Fructose for our sweetener, although I highly doubt we needed any sweetener at all. After the ChillOver gelled I spooned it into dessert dishes and Mama whipped up some whipping cream for the top. (Its only salad without the whipping cream. Whipping cream transforms it into dessert!)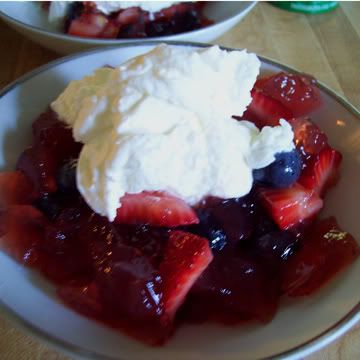 Delicious, if I do say so myself!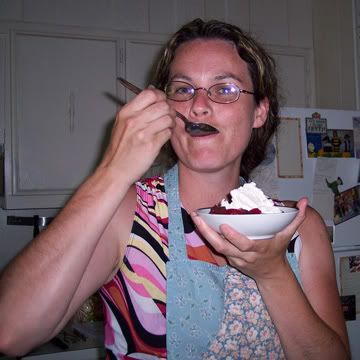 I love my Mama! When I thought about all the qualities of a best friend, I found that my mother fits all those and more. I thought about things like honesty...that complete honesty that you share with your best friend and never worry about whether they will leave because you were too honest. The fact that you can go months without talking and pick up where right where you left off as if there had been no break in the conversation. The person you call the most and talk on the phone with the longest. The person you share the most in common with...hobbies, values, dreams, ideals. My mother fits all of these categories and more. She truly is my best friend!
We even share a love for aprons. And not just the pretty kind. Our aprons must be practical too! Because neither one of us can understand how people can cook in the kitchen and not mess up their clothes or wipe their hands on their fronts. An apron must be practical, yet pretty.
On to Friday. My father woke up still sick on Friday morning. In fact, he was much sicker than the days previously. I felt quite worried about him, but I didn't realize just how sick he was til later in the day. While everyone was napping, James and I headed into town (where I made those two blog posts...remember?) to pick up a battery charger for my camera. When we arrived back at my parent's house my mother informed me that Daddy had called his doctor and was told to get to an emergency room immediately. Of course, Daddy drove himself. He insisted he felt good enough to drive into town. James left for his downhill mountain biking adventure with Joel and another one of my brothers, David. Mama and I had an evening to ourselves. What are three girls to do with themselves? MaryJane the evening...that's what.
We planned on spending Saturday down the Palouse with MaryJane's Farm Fair 2008. We figured we might as well and hit the gala party in Coeur d'Alene Friday night to start off right. Oh, what an exciting evening we had. The first thing we saw when we entered the resort mall was MaryJane's teardrop trailer. Oh...what a cute little trailer.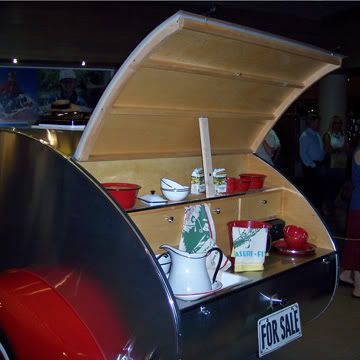 We decided it would be entirely
un
-practical for anything but a picnic on a sunny day, but we loved it none-the-less. We then headed into MaryJanes store where we found some very expensive goodies for beds and babies and bathrooms. Of course we touched all the minky blankets and drooled over the white bed linens and pillows. So much white everywhere. We loved the jars filled with colored buttons and decided that although we didn't have near the quantity to fill even a baby food jar with them, we would someday like to try it. Each jar contained a single color of buttons. What a way to organize buttons, right? And it looks pretty too. I did pick up a box of my muchly coveted ChillOver powder.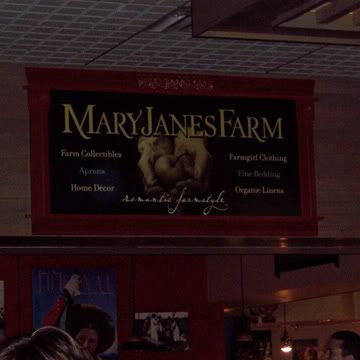 We found an information table with a Buggy, Boogie and Barter passport for the Farm Fair and so we headed to each boutique in the mall to get our stamp so we could enter to win a fabulous MaryJane gift basket. All the food was free and done up MaryJane style. We tried her Organic Mini Cheeseburgers which were delicious.
The most exciting portion of the evening was actually seeing MaryJane Butters herself. At first I only got a photo of her posing for someone else's photo.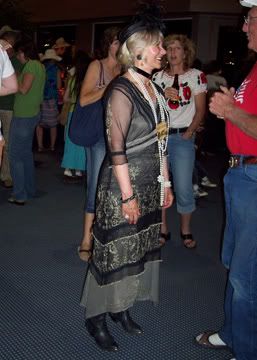 But then we managed to catch her as the evening came to a close and asked her if we could get our photo with her. She smiled politely and said yes. While posing with us, she asked us where we were from and if we were having fun. Chloe loved her long pearls and kept reaching up to touch them. I felt a little embarrassed by it but MaryJane took it all in stride.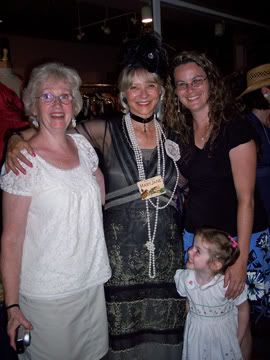 I really must be off now to see about getting showered and dressed for the day. Its almost lunchtime and I have yet to do anything today apart from feeding the child and drinking my coffee. I think I shall not do much at all today. Maybe unpack a few more odds and ends and maybe vacuum the floor. It hard for me to walk on it knowing that it has not been vacuumed in two weeks. So...not a lot of dirt on it, but keep in mind we have a cat and that just grosses me out. Walking around on cat "stuff" in my bare feet. GROSS!
Have a fantastic day everyone. I hope to get you all caught up on our travels in the next day or two.