Gosh, it has been so long since I have worked on any sort of project of any kind. I can't believe how busy our summer has been. Not a single crochet hook has been picked up. Not a single inch of thread has passed through the sewing machine. I think I am suffering withdrawals or something, yet I can't seem to get myself motivated to pull anything out.
There is one project I have been working on for the past two months, a little unsteadily, mind you, but when I feel the urge to stitch, I pull it out. I took it to Spokane with us last month as my project to work on while my mother and I visited. We like to keep busy while sit on the couch and visit. She usually thumbs through some magazines while I work on a project.
I purchased these pillowcases from
Herrschners about a year or two ago. Its the perfect project to sit and stitch on while watching a
baseball game
or listening to a bit o
f Jack Johnson in the evening.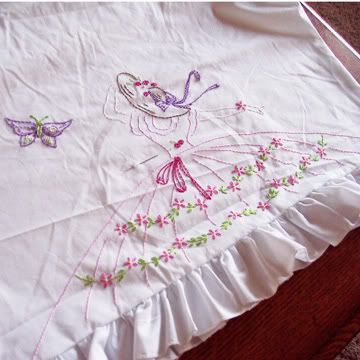 She's a beaut! I can't wait to get her done. Well...then I have an identical one to do and...that is sort of like knitting the second sock, I suppose.
Have a fabulous day everyone and a gorgeous weekend.