Chloe asked me to make banana pancakes for breakfast a couple of times this week. I finally obliged. For one, its one of my favorite songs. For two, how can I deny such a simple request from my blue-eyed, freckle-nosed little bundle of joy? She deserves banana pancakes...but only after she sings for them.
She sang the entire song and earned her well-deserved banana pancakes.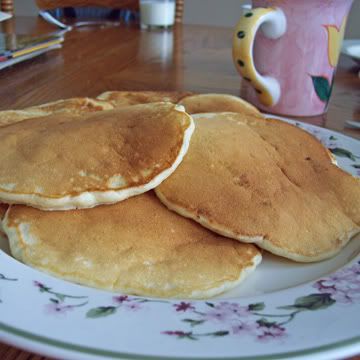 We ate them slathered in butter. Delicious. They needed no sryup. Of course, we found out the hard way that banana pancakes do not keep for the next day. They turned to mush and the bananas inside the pancakes turned brown. Yuck! We sure enjoyed them hot off the griddle though.