This week saw another journey to a fair, only this time we headed to the state fair. I shall now present you with our many fair faces. Our tale begins with a
$2 hot dog face
.
(She clearly did NOT want her photo taken while eating her hot dog)
We stopped by the animal pen for the
watching a goat face
.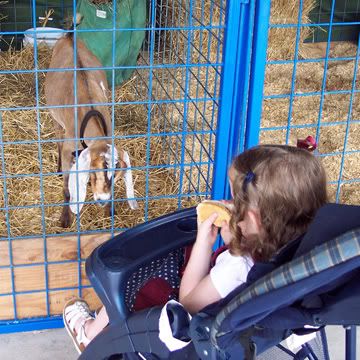 So, its the back of her head and not her face...oh well. Its cute.
And next, is it possibly a
farm-girl wannabe face
?
Yes, that is what is must be. She crashed her tractor into another tractor and you can just
see
the determination on her little face to get herself out of the wreckage. Yes...she, indeed, is a farm-girl in the making.
What fair is complete without a
pig-racing fan face?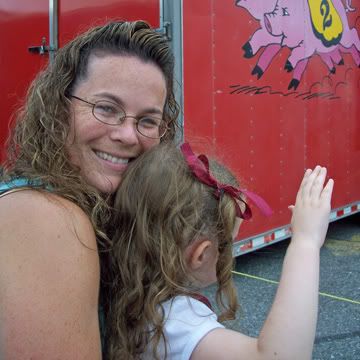 Chloe raised her hand in an effort to be the chosen cheerleader for our section of bleachers. Her efforts paid off and she was awarded the honor of cheering for Pig Number 1. Lo and behold, Pig Number 1 won! Our little cheerleader proudly stood to receive her prize. Thus we have our
winning pig face
.
The pigs raced for an Oreo cookie on a silver platter. No. I am dead serious. They did. So, Chloe received a whole package of Oreo cookies in addition to her pig snout for helping her pig.
We walked over to the race track to see some horse racing. Sort of like the pig racing, only on a much larger scale. (and a greater time between heats too) We have our
waiting for the horse race face.
We only saw one race before a torrential rain poured down upon our heads and sent us scurrying under cover. When I heard someone mention the words "hurricane" and "this afternoon" and "hit us", I made the difficult decision to finish our fair face adventure and drive home. I sure didn't want to have a
caught in the hurricane face
to show you all.
I got one better. A
tuckered out, end of the day face
.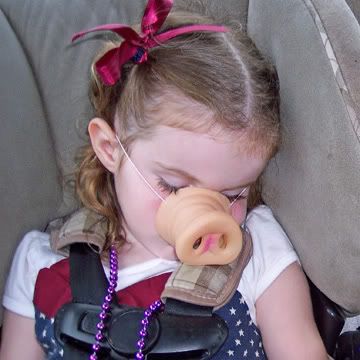 So, we will try to visit the fair again next week so we can ride a couple of rides and see the handmade goodies. Have a fun weekend everyone and don't get wet! (or Do get wet...that could be fun too!)