I asked James today why this deployment seems to hit me harder than the last one. I mean, last year I didn't cry as much as I have cried yesterday and today. Last year, we didn't bicker with each other. Last year I wasn't as stressed out nor did I suffer any anxiety attacks.
This year is different. I was a complete basket case today...all day long. I gazed into Chloe eyes and felt something of a loss for James. I glimpsed, in part, what he will be missing for the next 6 months and it broke me up inside.
James replied to my question by saying three things. One, this deployment lasts longer. Two, we know what to expect this time and we know it won't be easy. Three, we are much closer this time around. Our relationship has improved dramatically this past year. Not that we had a terrible one before, mind you...but we both can see many positive changes in our relationship over the past several months and that makes it harder when it comes time to say goodbye for a long while.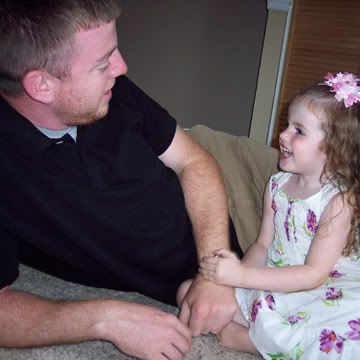 We recently watched an Elmo video with Chloe to prepare her for the deployment. In this video, Elmo's Daddy leaves for a long, long time and we were able to relate so well to everything in the show. (they did a phenomenal job, by the way) One of the things they portrayed in this show that we felt held special meaning was right before the Daddy left, he gave Elmo his trumpet to take care of while he was away. Elmo, in turn, gave his Daddy his special toy to take with him. We decided this would be a good idea to do with Chloe.
This afternoon, James handed Chloe his watch...the only thing he really wears and uses on a consistent basis and Chloe loves playing with this watch. So James gave it to her with the instruction to take good care of it until he returns. I sent Chloe upstairs to pick something special from her room for Daddy to take with him. She chose her stuffed chipmunk whom she regularly sleeps with. We were all in tears at this point but it all helps to solidify the fact that James IS returning home to us and that he loves us very much. (this is important to tell Chloe over and over...so that she understands he has not left us...but that he has a job to do and when he is done, he will return home)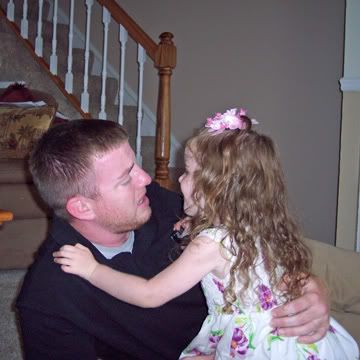 James didn't feel comfortable taking his wedding ring with him, so he left it with me. That was my special gift. I am now wearing it around my neck with my own wedding band to symbolize the fact that we are always together in our hearts. I will wear our rings until he returns.
Today we said goodbye but goodbye is not forever when our hearts are joined in Christ. I pray that James returns to us in 6 months time. I miss him already.