Just a quick post to show you more pages inspired by my new scrapbooking book. I have to tell you, I love this book. I look through it for about 10 minutes and I am inspired to create pages for the rest of the day. Its not that I copy what I see...it just inspires me to try new things.
One of the things I have noticed in this book is that they combine different things you wouldn't neccessarily think of putting together. Like two different patterns of pretty paper. Or an embellishment that doesn't exactly match. But when you combine all these different elements, they somehow look fantastic together. Here are some of my favorites.
For this page, I finally broke out my
Close to My Heart
stamps and did some rubber stamping in a scrapbook. I've never done stamping in an album before and this added a special touch, I believe.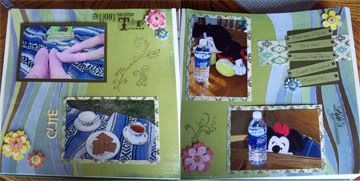 This next page took quite a bit of work. I "antiqued" all the little word boxes to attach to each picture. It was my take on journaling. I get tired of slapping square journaling boxes on each page so this time I just created a phrase describing each picture. To antique the paper, I took a sponge and dabbed it onto a brown ink pad and then sort of scrapped it along the edge of the paper, putting a little extra emphasis on the corners. I found a bag of lace at a yard sale last week which included a small amount of vintage crocheted lace. I had to put it on this page. I think it adds the finishing touch.
Here is another fun page. I cut the floral paper in a swirl motion and then used a Creative Memories flower punch to cut out tons of those little blue flowers to edge the swirl. The word "play" was made using a stencil and some scissors. Made for a very sore hand by the end of the day...and also made is neccessary for an item I will show you in another post. (its a surprise!)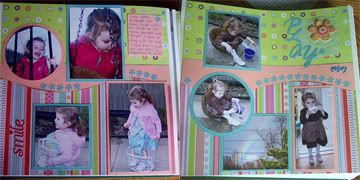 And now for my favorite page. This page is my favorite for so many different reason. For one...I love the paper. It has a kind of sheen to it. For two...I love fowers. For three...I just love how everything came together. The buttons. The handmade tag (which, again, is antiqued). The rub on sticker. I've never used those before and found it quite fun. It came with rhinestones to add too. What a delightful touch.