I am not too old to learn new tricks. I just need some inspiration sometimes. My scrapbooks have become boring to me. The last one I completed in a one month time span and it reflects that in its pages. You can tell that I simply put the pictures into a book. That was my goal.
This past week I needed something more, but felt myself stuck in a rut. Patterned paper background. Each photo matted in matching cardstock. A journaling box on the page. A couple of well-placed sticker and I was done.
Then last week I splurged on myself and bought a scrapbooking book,
The Amazing Page
. It has helped me out of my slump tremendously. Check out some of the pages I created before my splurge for Chloe's birthday album.
Here is a page of her second birthday decor. I couldn't find any strawberry shortcake scrapbooking supplies so I printed some images off the internet onto pink cardstock. To embellish them, I placed rhinestones in strategic places on them to add a bit of pizzaz and sparkle.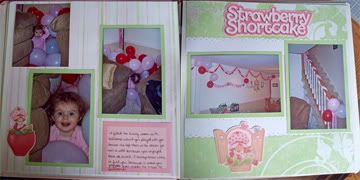 Here we have her third birthday cake.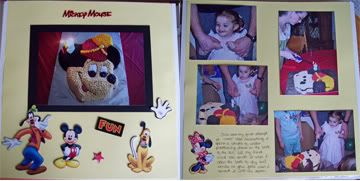 To introduce each year's birthday, I created a page to hold her birthday cards and placed an 8x10 photo of Chloe on the opposite page. I thought this might be a good transition between each year.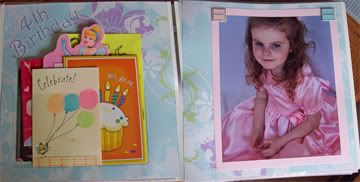 But do you see what I mean about "blah"? I can get these pages done quickly, but they just don't have that artistic balance I so desperately desire. Check out the "after inspiration book" creations.
Here is a page from her Candyland party. I hand cut the lollipops and candies for this page.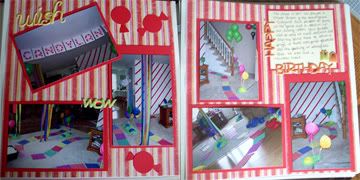 And next is another page from her candyland party.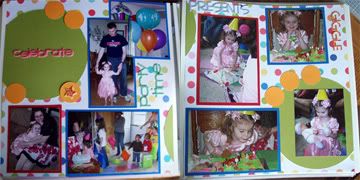 I plan to spend the next week scrappin' so you will most likely be seeing more pages. I feel so inspired after browsing through this book. It is definitely what I needed. Have a great day and go be inspired. Check out a book from the library to browse through. Stop by the magazine stand at your local craft store. You might be amazed at the help it can bring to a creative slump.