As we prepare for James upcoming deployment, we try to find as many little moments together as possible. Special moments that we can pull up in our memory during the inevitably lonely months spread before us. Moments of laughter. Moments of joy. Sometimes those moments are captured at the times we least expect them. Sitting on the couch together while we wait for Chloe to finish putting on her shoes as we head out the door for one last shopping trip. Saying our prayers together as we tuck Chloe into bed at night. Driving in the car to a friend's house for dinner. These little moments of time can produce some of the most precious memories during these last few days we have together.
Its during these little moments I am reminded of just how great a daddy (and husband) James is. I pull out my camera and try to capture this on film...a very difficult feat, mind you. Here are some of our moments from yesterday.
A kitty cat pose moment...
A
beep-beep
moment...
A king of the mountain moment...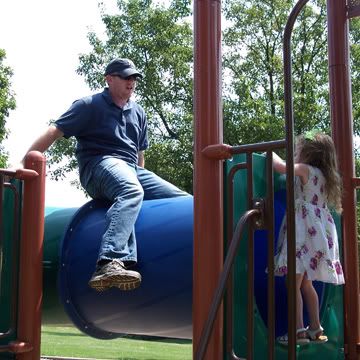 A swinging moment...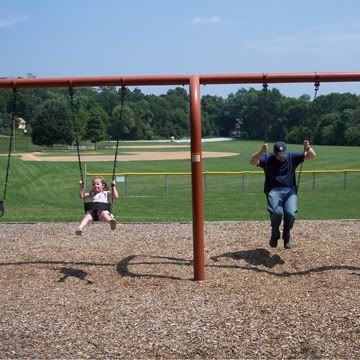 A family moment...
That picture just might be our Christmas picture this year. I doubt we will get another one taken before James heads out. He took me out to dinner last night to a fancy restaurant inside a mansion. This place was spiffy. Okay...the ambiance could have been a bit better considering the cost of the meal, but the actual food was the best I have ever tasted in my life. I ordered the fillet Mignon wrapped in bacon. Delicious! Absolutely scrumptious! James ordered lamb sausage wrapped in veal. It was okay...not quite as good as a medium rare fillet Mignon though. A nice Peanut butter mousse dessert with whipped cream and chocolate cookies and a delicate chocolate drizzle completed the meal with finesse.
Today we are trying to capture some moments too. We had a "hunt for the missing game" moment for about 3 hours this morning. We also had a "pack some clothes for Daddy" moment and a "fix all laptop issues" moment. We will be having a "Mario Party 8" moment and a "learn to upload video to the internet" moment as well. Hopefully these moments will be filled with smiles and laughter. No tears. Not today. I want this to be a happy memory day for all of us.
What happy moments have you been able to capture with your loved ones this week?