Today marks 30 years on the wall for James. Yes, that's right. My dear man turned 30 today. Wooo Hoooo! You have no idea how ecstatic I am regarding this moment. You see...I am 6 months older than him. And he has made it very clear how he feels about turning 30 by the jokes he made when I straggled across that very mark 6 months ago. Oh yes. I am rubbing it in...good and hard!
In other news, Chloe visited her neurologist yesterday. The actual visit went very well. I suppose that because we now have a neurologist the appointments will come much quicker and easier. The hardest part is getting in...and we did that in a week. (I guess the waiting lists can be 6 months sometimes.)
I am now quite educated in seizures. Here are some interesting bits I learned yesterday.
~ Stress does NOT cause seizures (or children would be dropping like flies).
~ Seizures do NOT indicate a brain tumor, meningitis or other issues of that nature.
~ The brain runs on electricity (how I wish I could harness some of that for my house so I could cut down on our electric bill). A seizure is an electrical problem in the brain.
~ Seizures are triggered by many different things. One idea with Chloe could be that she is under a large amount stress with her Daddy being deployed which, therefore, is causing her to suffer sleep deprivation. Sleep deprivation can trigger seizures in one prone to have them in the first place.
~ One seizure is called a seizure. More than one seizure is called Epilepsy. Chloe is now diagnosed as having Epilepsy.
I found peace in alot of what the doctor told me. My heart can rest at ease. He did say that walking out of his office today he is 70% sure she will have more seizures. We scheduled the EEG for two weeks and once he sees those results and if there is anything on them, that percentage will rise to 90%. Basically, I have a child with epilepsy and she will have more seizures in her lifetime. Now whether she will grow out of this, we don't know yet. I guess the EEG will answer quite a few questions like that for us.
Now you all know we had another major issue this week and that would be our dear little car. She still sits in the church parking lot, waiting to be towed to the mechanic. And she does wait patiently too...I saw her the other night and patted her lovingly. I almost felt like it was a goodbye of sorts...oh no...ack...I feel like I could cry right now. I will miss that dear little car. She was such a good girl.
Okay, so our dear friends returned James truck to us the night before last. I have to be honest. I've had my misgivings about driving that thing around for the next 5 months. I don't feel safe in it. I figured I would feel worse with Chloe sitting in it. But we put on our brave faces and drove it to ballet last night. (Actually, I was the one with the brave face and Chloe was the one with the excited grin stretched across hers.)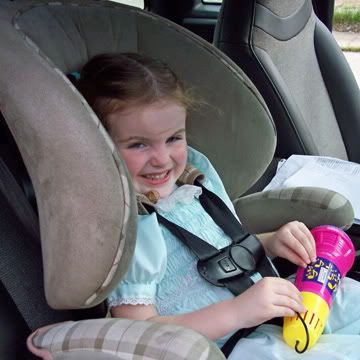 This adventure proved quite thrilling for a little four year old girl. She loved sitting next to me, and to be honest, I adored having my mini best friend sitting next to me. Oh, how we rocked out to such tunes as "Jesus Loves Me" and "This is the Day the Lord has Made" together. The acoustics are far better when we sit side by side. A girl could get used to this. I loved the fact that I could see her face while she belted out "Rejoice in the Lord Always!" This truck driving might not be so bad after all.
And now, I leave you with a couple of pictures of Chloe from the neurologist office. It is time for school and then we have some major chores to get done. I hope to have a couple of pictures of dresses for you later today and possibly a funny story about a particular Christmas present.