I finally began marking projects off my to-do list again. Yay! Here is one such project. I wanted to have a place in Chloe's room for her to hang pictures of James, letters, postcards and anything else her little heart desires. So I bought the supplies to make the board and then let it sit in my craft room for 6 months. Isn't that the proper way to do things? Oh, no??? Hmmm...
Well anyways, I finally pulled it out the other night and finished it.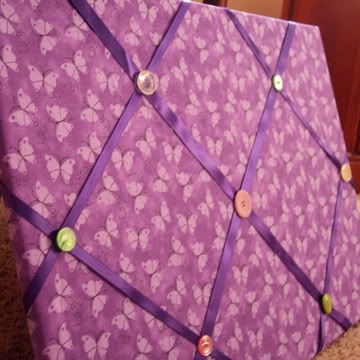 I stapled a piece of purple/lavender fabric with butterflies all over it around the framed cork board (lucky for me it was already a framed piece for the wall so I didn't have much work to do there). I lined the ribbon up by lying it on the board where I wanted it. I hot-glued the ribbon on the back of the frame and then at the junctions in the middle. I brought down my vintage button stash and waited for Chloe to choose the perfect buttons for her board. This can be quite the process for a four year old. The buttons have to be just right, you know.
In the end we have something we both are happy with.