While working on this next dress for Chloe, I realized it would be quite a special dress. I paid attention to all the little details on this dress and boy oh boy, did it turn out splendid. Its hard to believe I used the same exact pattern as the polka dot dress in my last post. As I created this dress I thought how it would make a wonderful gift for my dear little sweets. I even have enough fabric left over to make a matching purse and doll dress. Oh yes, the
perfect
Christmas present.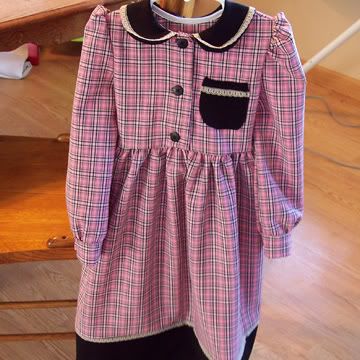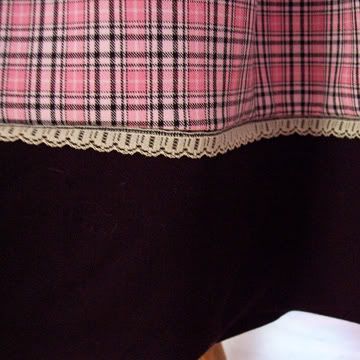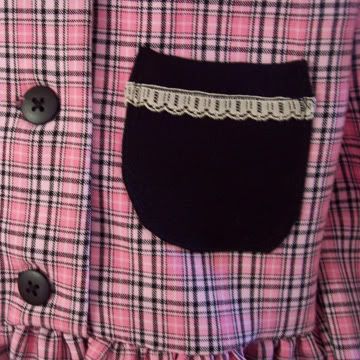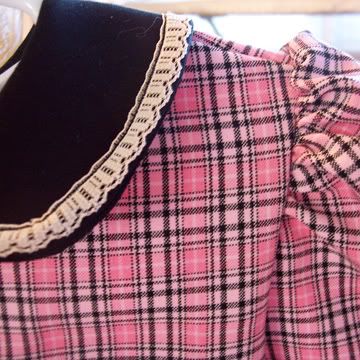 I found this fabric in an amish fabric store out in Ohio last September while visiting a dear friend of mine,
Melanie
. She too purchased some of the same fabric and made a
jumper for her daughter
. It only took me a year to get around to finally making Chloe's matching dress.
I used the same
Simplicity 5827
for the dress as I did for my polka dot dress but with a couple modifications. First, I opted for the black trim around the bottom instead of the same fabric straight down. The advantage to this technique is that I don't have to bother hemming the dress by hand...which can be such a bugger for me to get around to doing. I added a bit of lace to the dress which was gifted to me a couple of years ago by none other than...yep...Melanie. (Thanks so much, dear. I am glad I finally found the perfect project for the lace.) Even the pocket adds that touch of "special" which the first dress just doesn't have. I adore how this one turned out.
I do have word of warning to all you fabric shoppers out there who scrounge around in bins for fabric without content labels attached. Before you press the fabric with the iron for longer than 5 seconds, make sure your fabric will not melt. That's right. Some fabric will, indeed, melt onto the bottom of your iron. Just a cautionary statement. Not like I have tried that or anything...ahem...but you
could
end up with quite a mess.
It is now time for the little one to get to bed and then I have some remedial work to be done on a skirt gone wrong. Have a great night.