Approximately two years ago, parchment paper and I were formally introduced. I am reluctant to inform you that I had not the privilege of knowing parchment paper, aside from the name, prior to this introduction. Sad because this stuff amazes me. Its paper. It doesn't melt. I can bake cookies on it all day long and not a single drop sticks. I never have to wash my cookie pans again. (So I splurged a couple of months ago and bought myself some
good
sheets.) Look at this...
You simply cannot get a better golden brown if you painted it. Perfection! We baked Daddy's favorite cookies today. Oatmeal Scotchies. Yum!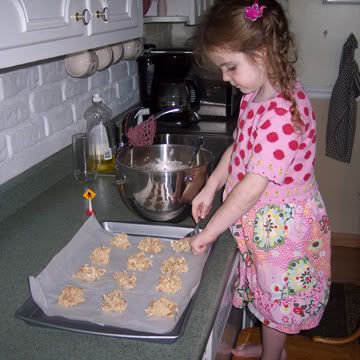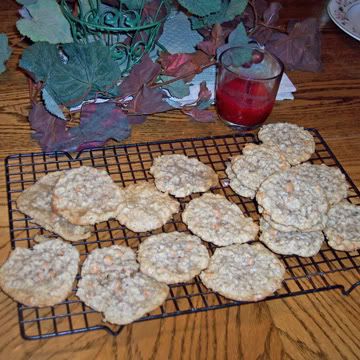 Now I just need to figure out a way to package and ship them to James without them crumbling into a million pieces. (Last year, I believe he ate them out of the ziplock baggie with a spoon.)
As many of you already know, we take tea every afternoon just as soon as Chloe wakes up from her nap and wipes the sleep from her eyes...which can take a few minutes and a few cuddles. While scouring the antique stores for some china recently, I allowed Chloe to pick out her very own tea cup. For the past three years I have let her use my own teacups so I thought she would love the idea of having her very own. I was right.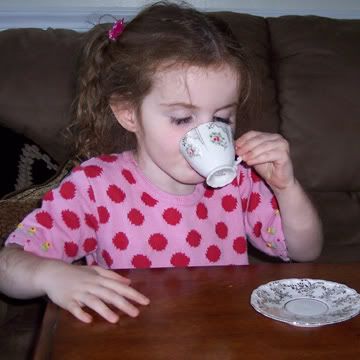 And might I add that I think my daughter has superb taste in fine china. This gem cost a mere $10 (as compared to the regular prices of $45-$50 that this particular antique most often carries) and not only is it beautiful and matches the rest of my eclectic set splendidly, but its not quite full size. It really is a darling little teacup. How could I resist? Today I enjoyed a lovely Double Spice Chai black tea with a bowl of peaches and cream on the side. Yes. Real cream. Chloe takes her milk with chocolate in it now. Today she informed me it was no longer tea but rather coffee instead.
So, I did hope to have some thrifty aprons to show you today and I am proud to say that I do. I am excited about this little project because its been rattling around in my brain for over a year now.
I picked up an outdated dust ruffle and a sage green circular tablecloth from "Elijah's Barrel" about a year ago. (that's the
free
thrift store at our old church where I donated about half of my house over the past three years.) These two items kind of coordinated...so the idea churned in my head for an apron set. After a couple of attempts, I managed to complete them today.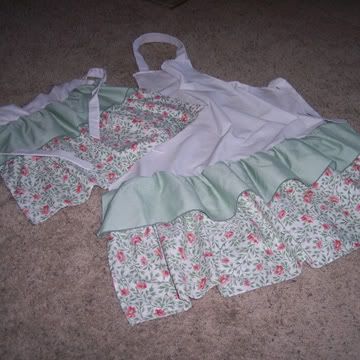 The peach floral fabric used to be the ruffle on the dust ruffle. I cut if off above the gathers so I could use the pre-existing stiches, saving me thread. I cut out the shape of the apron with the white fabric (the part of the dust ruffle that the mattress would sit on) and hemmed it on all edges. Then I attached the peach ruffle to the bottom, flipped it over and top stitched it. At the top edge of this seam, I attached the green ruffle (taken off the circular tablecloth above the ruffle seam) and also flipped it over. Since it hung so nicely, I didn't feel there was a need to top stitch the second ruffle. So cute and so easy. No gathering neccessary. I did sort of the same thing with the child's apron only I made this without a bib. I double folded the white to make a waistband.
I asked Chloe to model it for me, but she decided enough with the pictures and made me chase her for a solid five minutes. I gave up so this picture with a model on the run will have to do.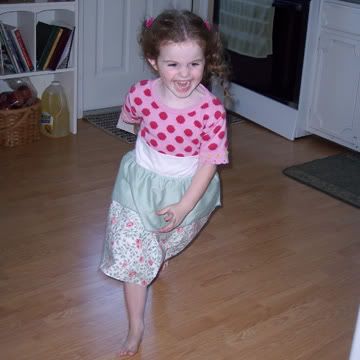 On the agenda tomorrow is a pinafore I've been meaning to make for quite some time. Remember
Chloe's thanksgiving dress
from last year that I finished this year and she will be wearing next month? Yes...well that dress pattern included a pinafore and its sitting upstairs in my workbasket, ready for me to sew. Let's see if I can knock this thing out tomorrow.
Have a fantastic evening everyone. I hear some oatmeal scotchies and chamomile tea calling my name ever so softly. (Hey! I know what your thinking and they aren't packed yet which makes them free game. Also, they need to be taste tested before I send them to the most important man in my life. Wouldn't you agree? I mean...what if I left out the baking soda or something...)