It's DONE! Well....
almost
.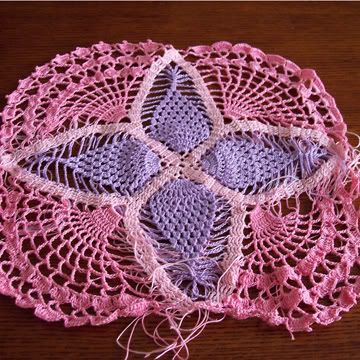 That is basically what it will look like, minus all the ends sticking out everywhere.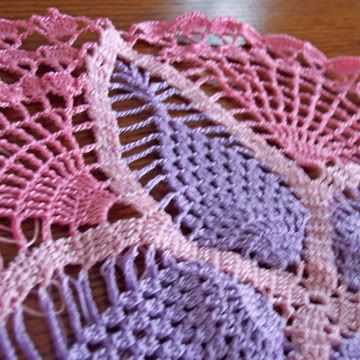 I wove in ends for about an hour and a half today. At that point, my back ached and my fingers ached and I desperately needed a cup of tea and some chocolate. A well deserved reward, if I do say so myself. And I have to tell you that while crocheting this doily, my carpal tunnel did not act up once. Not once!
Afterward, I cut out a pattern for a wrap t-shirt.
Missus SmartyPants
informs me that my best style of t-shirts are the wrap kind...and since I can't seem to locate any in the stores I have resorted to sewing my own. I hope to have one done tomorrow. I bought fabric this past spring to make three but with my history of flops in the pattern department, I decided it best to make one first, and see how it goes from there.
By the way...Chloe stated upon seeing her doily, "Its PINK Mama!"
short pause
"And Purple!"
In other news, we missed the wedding Saturday. I just couldn't see myself driving 2 hours with a four year old and after the long drive, making her sit still through a long wedding service and reception and then shoving her back into the car for the two hour drive home. We were up late Friday night with some issues and so we just stayed home in our pajamas all day. Good thing too because a storm came through and I wouldn't have been pleased to be caught in it while driving. I did nothing spontaneous this weekend, I am sad to say. Maybe this week though...who knows! I can be spontaneous if I put my mind to it.
I must now exit the living room and head upstairs. I can hear the neighbors going at it again and I can't bear to listen to it a minute longer. Have a fabulous night everyone! I pray you experience true peace and an overabundance of joy today.