I've had this recent surge of intake of crackers. I suppose it all started with a party I threw a couple of weeks ago during which I served some plain Carr crackers with cheese. Silly me purchased a Costco size box of crackers and we have yet to make it through 1/4 of the box.
Well, this dilemma compelled me to procure a ball of sumptuous cheese. Yummm....port wine cheese. Absolutely delicious!
So today, while perusing my latest issue of MaryJane's Farm magazine, I spotted some recipes for homemade crackers. What delight! What joy! I knew immediately I would make them post haste. And we did.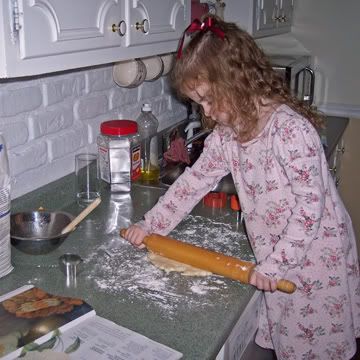 We even used out fall shaped cookie cutters for some truly unique creations. They are almost too cute to eat.
Almost
, but not quite.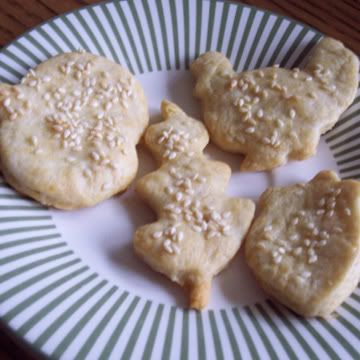 I packaged about half the batch up to ship to James. These might just be something he will enjoy homemade. (He's my store bought foodie kind of guy.) Next I am debating between Crackers with Tamari sauce and pumpkin seeds or the Gingerbread Crackers. We shall see what ingredients I am able to locate at the health food store.
Meanwhile, I stole another idea from MaryJane. My mother took me to her store this summer (remember that whole trip? Fun!) and we marveled at the jars filled to the brim with buttons sorted by color. Now, MaryJane used them as decor in her store, but oh...how I wished I could display my buttons in such fashion. I recently found some smaller jars at Walmart (yes, I stepped foot inside Walmart...don't ask me why...I don't know...) and began sorting through my stash of buttons. My very own collection starts with four jars.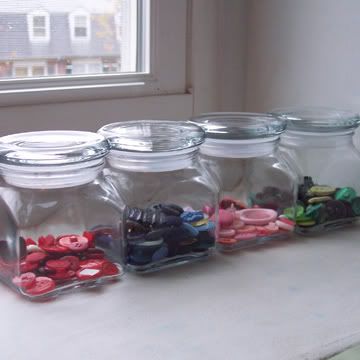 I think I need more buttons. I picked four of the most vibrant colors that I owned the most of though. I figured a jar filled with white buttons wouldn't look as attractive as jars of pink, blue, green and red buttons. I love, love, love it though.
Unfortunately, I was unable to finish the simple wrap t-shirt I started sewing on. For some reason, my phone rang off the hook this afternoon. I can't really tell James to call me later either...so I took the call and put the shirt on hold til another day. I hope you all have a blessed evening. Please say a prayer for a dear friend of mine who should be having a baby today. She went into labor this morning.