Routines are important. Especially for someone like me. I thrive off routines. I tried living with just a to-do list recently (because a certain someone in my household poked fun at my routines) but I found I just can't get things done without my routine. A schedule that tells me exactly when I am supposed to do what. Today we plunged back into our routine and I am a much happier person for it.
We spent this past weekend at my friend Karen's house. They recently purchased spiffy new countertops for their new home and we felt the need to break them in proper with a scrumptious batch of chocolate drenched eclairs. While we worked, Chloe dressed up and put on a ballet show for us.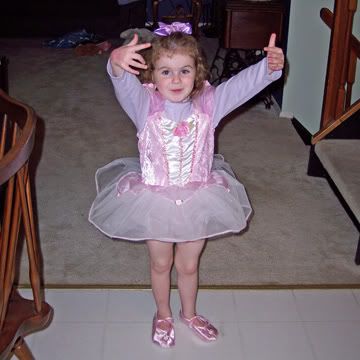 And in the only picture we got this weekend of the two of us I posed in my pajamas. Now, before your jaw drops from shock, keep in mind that Sunday was rainy, wet and downright miserable in my neck of the woods so we spent the entire day in jammies...aside from the couple of hours we spent at church. It felt glorious to lounge in pajamas all day.
Chloe recently received a package in the mail from her Daddy. What joy spread across her face as she anxiously tore it open as quickly as her little fingers could fly.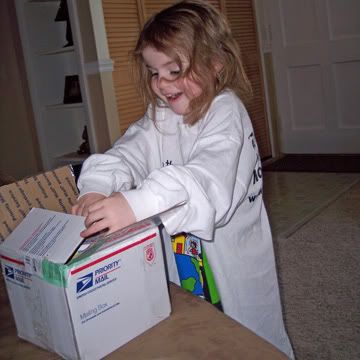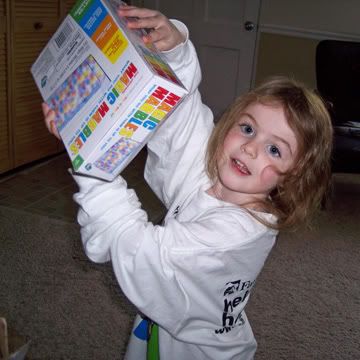 Magic Marbles. What fun! Thank you Daddy. She loves these things (and, incidentally, so do the kitties).
Okay. So, I haven't shown you all anything I have made recently. That is due, in part, to the fact that I haven't made much. Chaos took over my life and I allowed it to reign for much too long. I regained control today (thanks to my reestablished routine) and was not only able to finish a little hat I started crocheting for a new niece but I also photographed a special little gift I created a while back. First, let me show you what I created.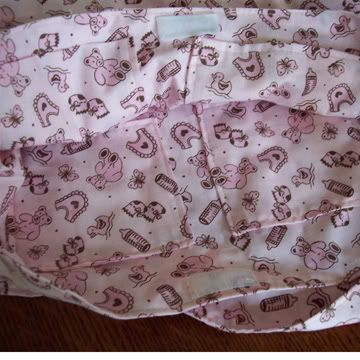 That, my friends, is a dolly diaper bag, created just for Chloe for Christmas.
I didn't use a pattern for this bag.
Woooo Hooo! I just HAD to show you all because of that fact. I even went so far as to add four various sized pockets on the inside of the bag. I do wish I possessed the foresight to purchase contrasting fabric for the lining, but hey! When you don't know for sure what you are going to create you can't really plan ahead that well, now can you?
What will be inserted in the bag? Well, what else goes into a dolly diaper bag but some dolly diapers!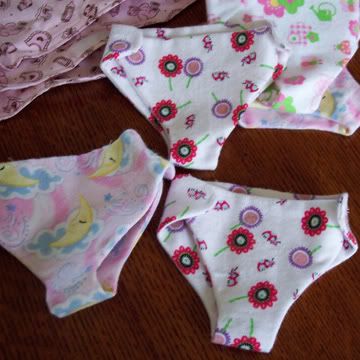 Another attempt at patternless sewing. Okay...if truth be told, I actually created my own pattern for those diapers. It took a few tries, but I now have a paper pattern (college-ruled notebook paper) so I can sew up many more diapers in the future. So, technically...not patternless since I used my own pattern. But hey...close enough, right?
Lastly I leave you with some pictures of a darling little hat I crocheted for my new niece my brother is adopting. My original plan was to crochet her my
Summer Meadows Dress Ensemble
but alas...the dreaded carpal tunnel disallowed me that pleasure so the hat alone must suffice. This I crocheted in size 10 DMC Baroque thread and some vintage pink size 30 thread from my stash. I left off the last round on the flowers so they appear to be tiny rosebuds. How precious! I can't wait to see pictures of this hat on my darling new niece.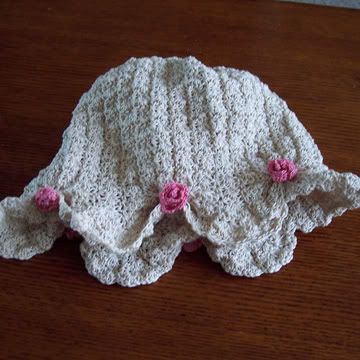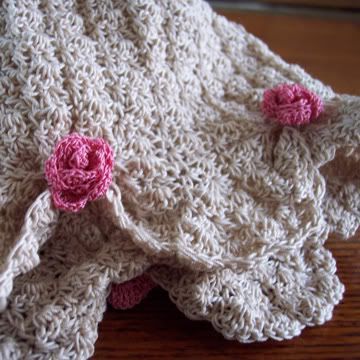 Tomorrow I plan on sewing up some aprons for my mother. (a grandmother/granddaughter set) More on that tomorrow though, hopefully including pictures of finished projects. This project will have a thrifty twist to it and I can't wait to share it with you all. In the meantime, have a fabulous evening. And remember...routines are our friends! They remind us to do what we are supposed to do without being so pushy as a to-do list.