Okay. Its time for an update around here, complete with loads of pictures. Where do I start? Hmmmm....
I think I shall start with yesterday. Our "pretend" Christmas, as Chloe and I have been calling it. The day we marked on the calendars to open our gifts and sip eggnog before we fly out of town to celebrate the "real" Christmas with my family. It began snowing here around 10:00 pm Friday night. We woke up to almost a foot of snow. Perfect for our "pretend" Christmas since I happen to believe we will not experience a white Christmas in Arizona.
Chloe fell asleep on the couch Friday night, much to excited to make it up the stairs to the proper bed. I hadn't the heart to move her so I slept on the second couch. She couldn't have been more excited when she woke up and saw light streaming in the windows. Morning! Presents!
I bought her a Playmobile Castle as her big gift. The box informed me it would take 1.5 hours to put together. Oh ho ho...I felt a challenge rising up from within. Yes. I would beat that time!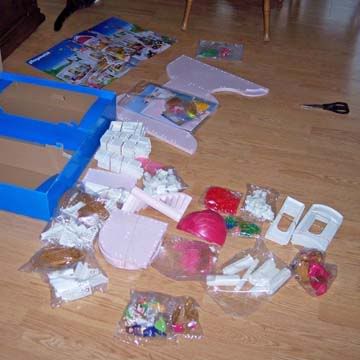 3 hours later I finished said castle (and forgot to photograph it). I was cooking, I tell you. There is no way on this earth that the castle could be completed in less than 1.5 hours. Chloe loves it though and has played with it almost non-stop since yesterday morning. We did, however, take a break from play to decorate our gingerbread house. I broke down this year and purchased a kit. I quickly found that I much rather baking my own.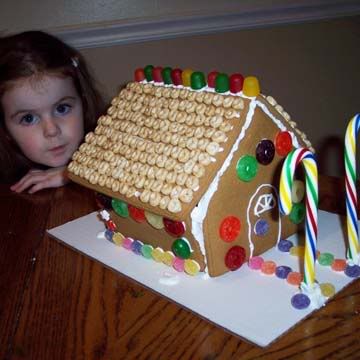 So, our snowy day ended late last night and we woke up this morning to loads of white stuff.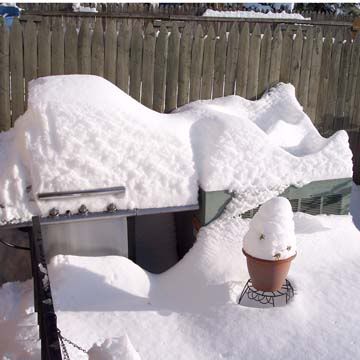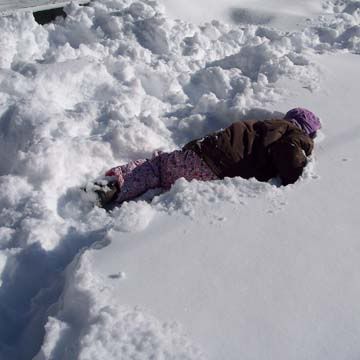 You might be asking "what is she doing?" in that picture. I asked the same question. "Digging" she responded faintly, her voice muffled from the snow. I must say that I have not seen this much snow since I was a teenager. At least not in my own yard. We may have gone to see snow while we lived in Arizona many years ago. That's the wonderful thing about Phoenix. You almost never get snow, but you are able to drive two hours north to the sky resort in Flagstaff and experience all the snow you care to.
Okay. What else have the munchkin and I been up to. Chloe preformed her first recital for us this past week. Her nutcracker ballet. She was darling in her little tutu.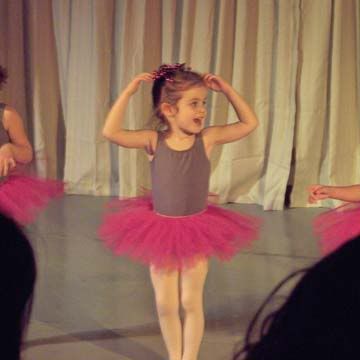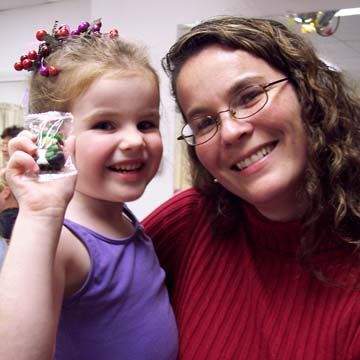 She even received a gummy snowman as a treat. What fun! She sure got excited about ballet this year after I took her to see the professional nutcraker ballet downtown a couple of weekends ago. That was the day of our first snow.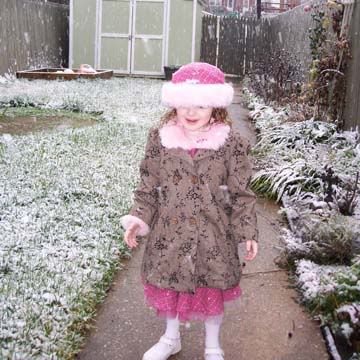 Chloe posed with the ballerinas.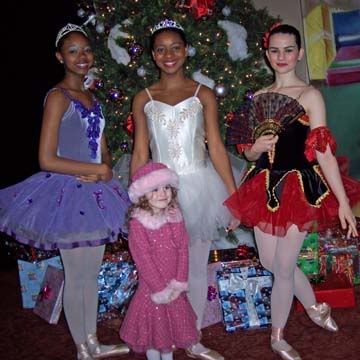 They refused us the privilege of photography inside the theatre and I felt sorely disappointed. How I wish I could show you all how gorgeous this theatre was. Magnificent does not adequately describe the splendor. Chloe sat entranced the entire performance. She giggled and chuckled at the funny parts.
We came home after the ballet and decorated our tree.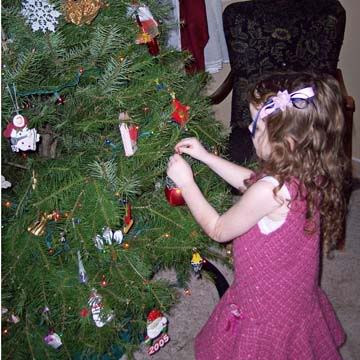 So, all in all, its been a delightful holiday season. We miss our Daddy and husband terribly, but we are coping and making it through with plenty of smiles on our faces. I leave first thing in the morning tomorrow (weather permitting) and I hope to be able to update the blog while I am away. I have so much more to tell you all. That's what happens when I wait a week between blog posts. I really must keep the updates more regularly.
Have a blessed day everyone! I must be off to finish laundry and start packing.