In my last post I showed you our "pretend" Christmas and the mounds of snow that appeared on our world just in time for it. Well, let me know tell you of our real Christmas.
We barely flew out of our realm in time last Monday morning. According to my brother (who was checking the flight status for our airport) they canceled a ton of flights about the time my plane taxied down the runway for takeoff. Whew! We made it though, to sunny Arizona mid-morning. And what a shock to our system!
Let me see if I can explain it properly. Monday morning at approximately 5:05 am, I shoveled 22" of snow off my front walk so I could carry my suitcases to the car for my ride to the airport. (that's almost two feet of snow!) Monday afternoon around 1:00pm, we rode bikes through a wash in Arizona without any coats on at all...and I sweated. What a day, right?
Tuesday we walked to the local park and played for a bit.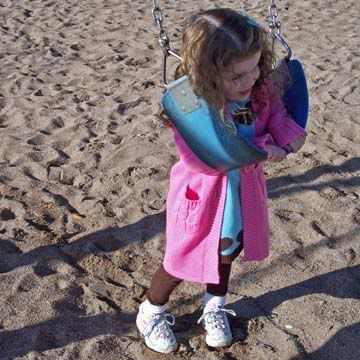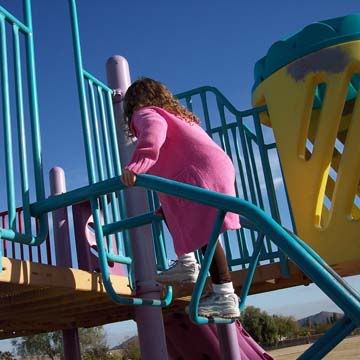 The next day we shopped for our Christmas gifts. During our lunch break Chloe rode a merry-go-round in the mall. What a great incentive for a good girl on a long shopping expedition.
Chloe has taken quite dramatically to my brother Jonathan. I don't know if he reminds her of her Daddy or what, but she always sits on his lap every opportunity she gets. He tries to give her a kiss every morning and she pretends she doesn't like it and screeches and yelps, but I happen to know she is completely infatuated with her Uncle Jonathan.
Christmas Eve we each opened one gift. Chloe opened her gift from Grandma and Papa. A pink dress with a matching dolly dress, bloomers and blanket. There couldn't have been a better gift for her. She twirled about the room in her pretty dress and even showed us a couple of ballet moves in it. She loves it when her baby doll matches herself.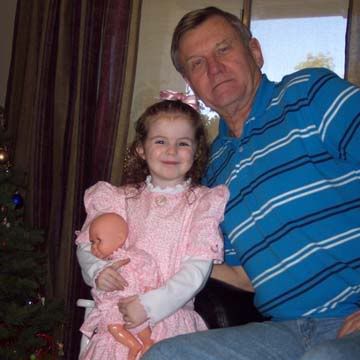 So, I've got loads more pictures to edit and blog about so I will sign off this post for now and get another one typed up in a minute. I hope to keep you all updated a little more regularly during this next week. Bye for now.