I realize now that I should not take a day off. I wish I had realized this fact a little bit sooner because it finally dawned on me at about 5:30 pm last night what my issue with myself was. I saw everyone around me with days off from work and I desperately wanted one too. Now they work "out of the house" jobs, mind you, but still...I longed for a day off. And it didn't help matters that I woke up with a sick headache. (You know...the kind that include your stomach? The ones that sort of make you feel like you've been rocking on a ship for months on end? Yup. That kind.) So, I gave myself the day off.
BIG NO NO!!!
The day ended with a castle in my living room (complete with the comforter from my bed and the couch rearranged) and a squabble with the little over whether or not she possessed the capability of picking up her toys which were strewn from one end of the main floor to the other.
I found myself praying, "Lord, You said Your mercies are new every morning, but if its at all possible, could I get an extra portion of those mercies tonight?"
He came through for me and I found my joy later in the evening. All was not lost though. Quite the contrary. My goal for this week shall be to declutter my sewing table drawers. Check out this mess.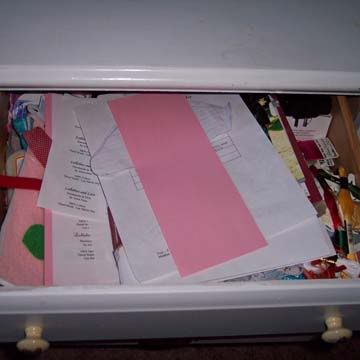 Yesterday I tackled the first drawer (what you see above). You would be quite amazed at what I found buried inside this drawer. I sure was.
- MIA Christmas cds (I searched for 2 hours for these suckers before Christmas)
- leaf shaped cookie cutter
- double sided lip gloss (which I almost swear I have never seen in my life)
- video camera battery charger for our old video camera
- Mr Potato Man scarf
- a couple of my wedding pictures (don't really understand why they were in there, let alone
how
they got in there)
- and a few WIP sewing projects I completely forgot about. I went ahead and knocked those out. Why I left a half finished doll pajama in the drawer I will never know.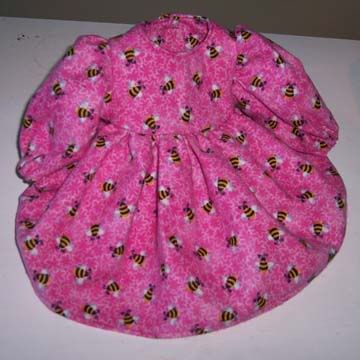 And now, the redeeming factor of my otherwise disastrous day.
With one drawer done and two more to go, I needed a knitting break. I pulled out some lime green baby yarn, a baby sock pattern book and some size 3 dpn's and set to work.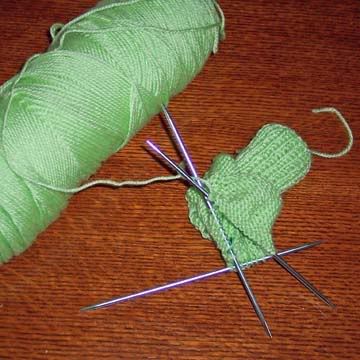 (for all you non-sock knitters out there...that sock is inside out. It will look much nicer with the right side facing out.) I am off now to finish the sock pictured above and will talk more in detail regarding the knitting of said sock tomorrow.
(Oh! And for the record...today I am feeling incredibly happy and alive. God is good and His mercies are indeed "new every morning." We spent a lovely hour walking in the park this morning after we finished school for the day.)