It's over. The funk is over! I can officially say it. I am done funking. I guess one could suppose it was that good ole depression sneaking up on me, but I prefer to call it a funk. Seems a little less grim that way.
First on the post-funk agenda was to finish this sweater I started before I left for my holiday excursion. I purchased the book
Positively Crochet
solely for the sweater on the cover. I just HAD to have it. I chose red yarn because...well...I don't really know why except for the fact that I maybe wanted this to be a Christmas sweater? Now without further ado, I present to you...the finished red sweater.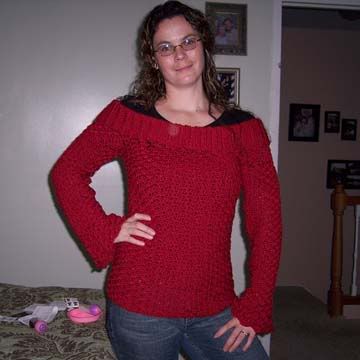 I must say that the puckering on the yoke did indeed disappear when I donned the sweater. And do you wanna know something totally cool?
Mary Jane
herself commented on my blog post regarding the puckering. Oh, how humbling. A lonesome tear escaped the confines of my eyeball and trickled down my cheek as I realized exactly who it was leaving the comment. (at first I thought...
Mary Jane Butters
? What is she doing on my blog?) How exciting to have the designer herself stop by and leave a helpful tip regarding her sweater! How exciting and humbling! Thank you Miss Mary Jane.
Now I must be off to start on goal number 2 for the week. To unbury the sewing machine. I am ashamed to show you the state of my craft/sewing room, but in order for you all to understand the after, you must first see the before.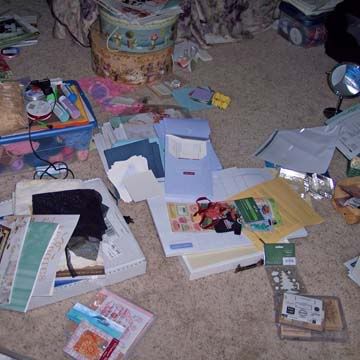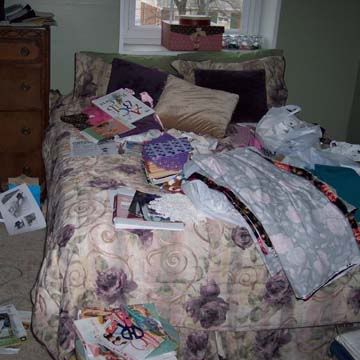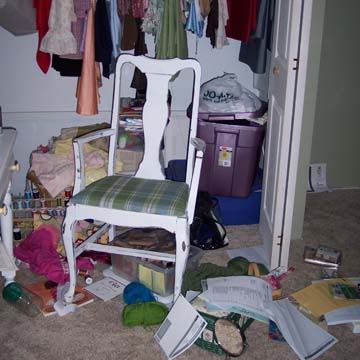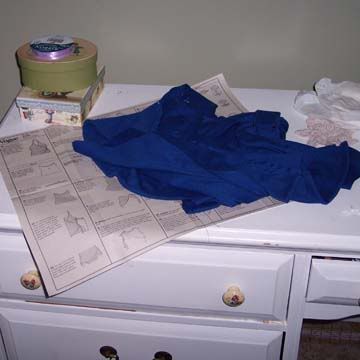 Yes...*cough cough*...ummmm... *choke*...errr...
That is MY sewing room, completely buried in who knows what. Better get on it ASAP. Hopefully an avalanche of fabric doesn't fall on me and bury me alive. I would love to be alive tomorrow to show you all something I created (or finished) today. Wish me luck as I ascend to the chaos above. Good day to you all!