What happens when you finish one lime green sock? You feel so excited you start dancing up and down on the couch amidst shrieks of laughter from your dear child who probably figures you've lost your head completely but its okay since its quite fun to dance around the room dangling a lime green sock from your fingers and shouting Wooo Hooo! Slowly, the realization dawns on that you that while, yes, you have completed the sock and you have mastered domination of the dpn's in the process...your project yet remains half finished. You must knit the second sock.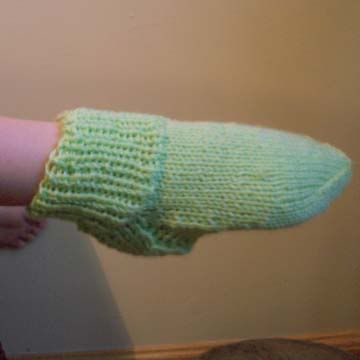 Even darling Chloe had a hard time comprehending the fact that she could not wear this sock yesterday after I tried it on her for the photograph. Try as I might to explain to her that it was only ONE sock, she still thought it possible to wear it, coupled with her regular bobby sock. "But it won't match", I reasoned. Finally, I pulled the sock from her foot and thought about knitting the second sock. Then I dug into the bottom drawer of my sewing table and pulled out a totally new project instead. Embroidery.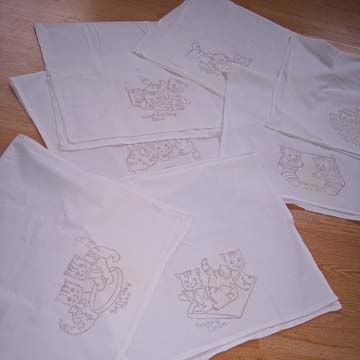 The second lime green sock must wait. I hear a calling for some pink-ribboned kitties in my kitchen. Aren't they just adorable? I think I shall embroider them in a dark charcoal gray color and give them a bright pink bow. Accessories shall be in shades of blue with a hint of brown now and then. Maybe I will tackle that lime green sock next week. (They were meant for a pregnant friend but since the sock somehow ended up fitting Chloe...
wonder how that happened
...I think they will become my "trial" pair and I will knit new ones in a pretty baby blue shade for the baby.) I am off now to make a large group of gray kitties very happy.