Whew! I am alive! I made it out on the other side of the grand mess alive! Woo Hoo. *wiping sweat from brow*
Ready for some mid transformation pictures? I ironed. I cleaned. I organized. I sewed. And after 5 hours combined yesterday this is what my room now looks like...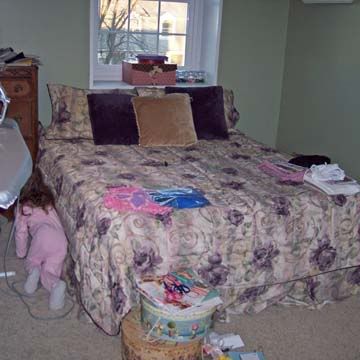 I can WALK into my room! Yippee! But there is much left to do. I have nowhere to put the rest of the items still piled on the floor. This means I have much work left to do and projects to finish and get out of my drawer space so the
clutter
...er...supplies on the floor have somewhere to live.
Part of my problem lies in the fact that I strongly dislike finishing work. You know...weaving in ends. Sewing in zippers. Hemming. Blindstitching. Well, I accomplished all of that yesterday and Chloe now owns 3 new dresses. I showed you these dresses before (in their unfinished state) but they are now wearable. Chloe posed in one of them yesterday.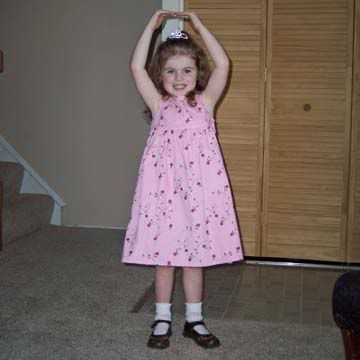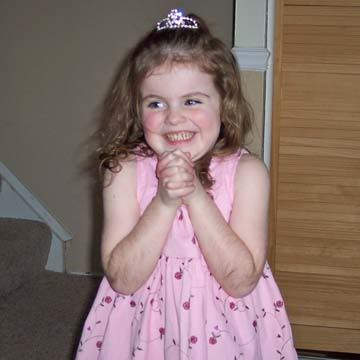 My goal for the day is to continue clearing off that bed. I see a skirt that needs altered (because I flubbed that one up royally), a dolly dress and purse that need cut out to match a dress for Chloe, a bloomer pattern that needs cut and sewn. You can also see in one of those pictures a blue something or other in the middle of being sewn. I need to figure out why I quit sewing it and work on finishing it.
Right now I am off to an early session of school and then the little and I are headed to the jumping castle place and then the grocery store. Busy day. Hope you all are as blessed and joyful as I am today. Take joy in the Lord. He is pure delight!