Large goals should be smallerized if you wish to tackle them without burning out. Trust me on this one. Remember the large goal for the year I set the other day? (well...I did set a number of them, so you have no idea which one I am talking about, do you? Sorry about that.) Okay. Let me rephrase.
Remember the goal of reducing my craft/sewing by half I set for myself a couple of days ago? Well, that particular goal seems immeasurably hefty. Colossal. Monumental. Immense. Unless, of course, I break it down into smaller helpings...digestible amounts.
Instead of focusing my attentions on the end goal,I will instead focus on this smallerized portion this week.
This weeks goals:
1. Finish all the projects lying around on the floor or the bed.
2. Clean up the clutter of supplies from the area (these too are lying on the floor and bed)
3. Finish my red sweater.
Speaking of red sweater...let me show that lovely to you. I worked on it for a couple of hours yesterday and am quite excited with the outcome.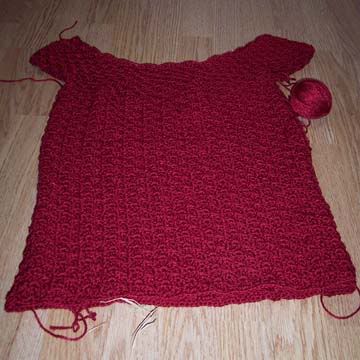 The kitties decided to help showcase the sweater while I photographed it.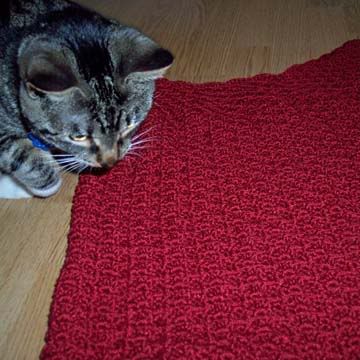 This pattern hails from the book
Positively Crochet
by Mary Jane Hall. I am not so happy with the puckering at the yoke. I decreased according to the instructions but when I lay the sweater flat, it puckers. I can only hope this fixes itself when I put the sweater on or when I add the collar.
Well, I am anxious to start the sleeves of this sweater but first things first. The floor needs mopped, the kitty litter emptied and the clothes washed. Yep...its time for my weekly home blessing. Have a fabulous day and remember to smile. (I smiled at the rays of sunshine streaming through my dining room window this morning.)