One down...one to go. This sweater probably won't make it in time for Christmas (seeing as how Christmas has come and gone already) but I am bound and determined it SHALL be finished THIS WEEK!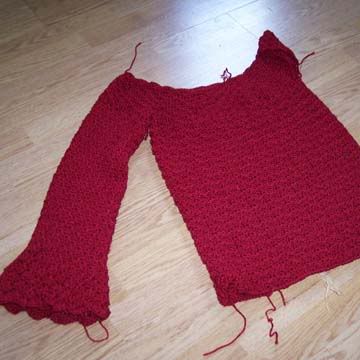 Truth be told, the yarn for this sweater was purchased two Christmases ago. Yes, it holds a slight dusty scent to it which I hope washes out. The yarn? Oh boy oh boy. Let me describe this yarn to you. First, let me tell you what its name is.
Berroco Softwist.
This soft yarn is very soft and...um...twisty? No. I wouldn't classify it as "twisty". More like...stretchy. It has a wonderful stretch to it so that while my sweater looks sort of boxy while laying flat on my kitchen floor, it is, in all actuality, quite form fitting. A must for someone with my particular build. I can barely contain my excitement with the end of the sweater in sight. I wonder if I shall sleep a wink tonight if this sweater doesn't see completion by the end of the day. I suppose I shan't even attempt. It MUST be finished tonight!
In other news...I suffered a moment of weakness this afternoon. I mentioned naptime and Chloe promptly headed over the couch and when I arose from my crocheting, I saw this...
...and couldn't say no. How could I when she looked so peaceful in her fake sleep?
I am off to conquer sleeve number two. Have a fantastically chilly day. (The perfect kind for cuddling up under a cozy blanket with a warm cup of tea and some crochet. And don't forget those fluffy socks.)