Okay. Not quite. But a girl can sure get excited this time of year. What time of year is that you ask? I am glad you did. Why Chloe's birthday of course. If one were to ask me what my favorite time of year is, I would promptly and dutifully reply with Christmas. But in all honesty, I must say that I do believe Chloe's birthday brings about much excitement in my heart. I just love it. The planning. The creating. I designing. The party itself. Nothing can quite compare to a birthday party. Its the one time of year when its all about YOU!
Now many of you already know that Chloe's birthday takes place in March. And those of you who know me well also know that I usually have her next birthday planned out the night of her previous birthday. But I am able to hold myself in check. I could go nuts in August for this March birthday, but I don't. I am a very good girl. I force myself to wait until after Christmas. That's my rule. I am not allowed to begin the actual planning until January. The idea sits inside my head for a good solid year and once January hits, I scour the internet for ideas and type them up into my word document. I give myself 6 weeks to get everything done. I create a second word document with each week listed and the tasks I aim to complete during those weeks. This holds me in check. Because, quite literally, I could go purchase all the supplies today and have the party set up by this weekend. I don't allow myself that pleasure. I force myself to wait patiently. Its hard, but I can do it.
So, today I bought the supplies for THE DRESS! All my long time readers know what I am talking about. We have a special birthday dress every year. Its her one completely fancy dress. And its usually pink. This year is no different. I did, however, coerce Chloe into picking a pretty pink sheer fabric with glittery swirls on it to be the overskirt of the dress. Otherwise it would look almost identical to her dress from last year. And we can't have that now can we? Absolutely not.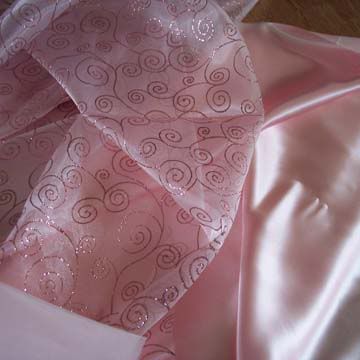 So, I have a hankering to keep you all in suspense with regards to the "theme" of our party this year. I like that idea. I think I shall keep you guessing. So, here is some fabric I purchased today. Hint...Think costumes.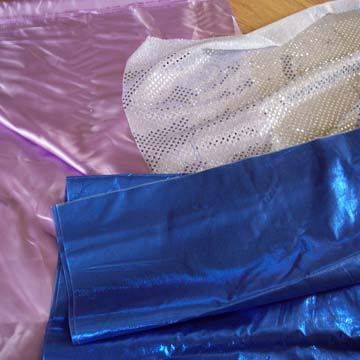 And here is some red felt I also purchased today. 2 yards of the stuff. Hint... Walkway.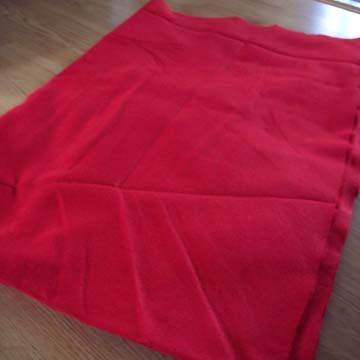 I must be off now to get something done. What? I don't know yet. But I feel that today must be made useful in some way. Maybe I will fold some laundry. Maybe embroider some kitties. Who knows. I'll chat at you all later.