I laid a new dress for Chloe on her toy box last night while she slept and put this dolly dress on top. You may recall seeing this dress before. I finished it a couple of months ago. The dolly dress I cut out yesterday and finished sewing at 9:00 last night.
When Chloe woke up this morning, I sent her back into her room with the instructions to "look on your toybox."
I heard this exclamation a few moments later, "Ohhhh! We Match!" and she bounded back into my room, both dresses in her hands, proclaiming, "Look Mama! It's a match!"
I love it that my little girl loves matching her dollies. There is almost nothing more precious than seeing a little girl, carrying her baby doll around in her arms, with matching dresses on. Just try to walk past such a sight and not say, "Awwww, how sweet!". Pretty hard to do, isn't it? Especially when she also carries a matching bag/purse...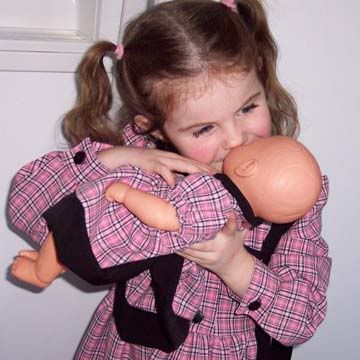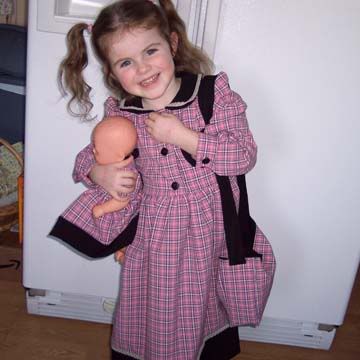 Now tomorrow I shall have a fun little (or big depending on how you look at it) project to show and tell you about. I am quite excited about this particular project but I must first get a little bit more accomplished on it first. I shall be ready first thing in the morning for you to sneak a glimpse at it. Have a wonderful evening and weekend.