Will wonders never cease? That thought kept roaming through my head this weekend as project after project saw completion. The speed in which they were completed both shocked and amazed me.
The first shock came when I sat down to sew together a quilt top for the Blankets of Love ministry at our church. We house homeless men from the community in our church for one week a year and during that time we gift them each with a handmade quilt. I am honored to be a part of the group this year. (Although I am a little late in the joining and my contributions are minimal.) I brought home the squares to make a quilt top and lo and behold, the entire thing only took me about 2 hours total to sew together. I fully expected it to take me at least two weeks, if not longer and my deadline of Feb 6th seemed not far off. Well, I finished it, took it to a craft day at church Saturday and brought home more squares for a second quilt top. Here is a picture of the first one.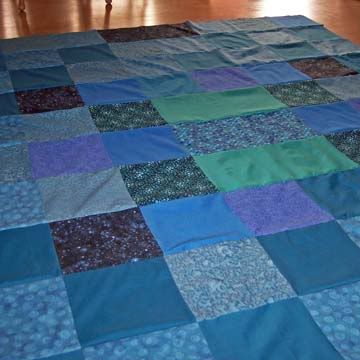 After arriving home Saturday afternoon with the new squares in tow, I sat down and cut out three bloomers for Chloe. Oh boy...these did not work up as quickly as I supposed they would (another wonder...although not a good wonder yet a wonder none-the-less). I was glad when two of them were completed and folded and put away into Chloe's bloomer drawer. The third? It found its way into the garbage can, never to see the light of day again (unless I feel completely sorry for it before garbage day, which is highly unlikely). I learned a valuable lesson Saturday. I do NOT like sewing elastic to cuffs. You know...the stretching technique? Nope. Not for me. Absolutely not for me. I can NEVER get the elastic stretched all the way across the cuff and when I try, I either break my needle or pull the elastic so hard it yanks the fabric right out from underneath the presser foot and the seam ends up through the middle of the leg (or arm). Definitely not the method I prefer. Frustration mounted and when it arrived at its peak, the poor, dear pink bloomers found themselves wadded up in the garbage bag.
The two that survived had casings sewn on to encase the elastic. I much prefer this method of elasticizing cuffs. Sew on the single fold bias tape on both edges and insert the elastic inside. The only trouble I can possibly see is that instead of one seam on the outside of your garment, you now have two...but oh, so much better than an extra wide leg cuff because you doubled the elastic length required so you could stretch it long enough.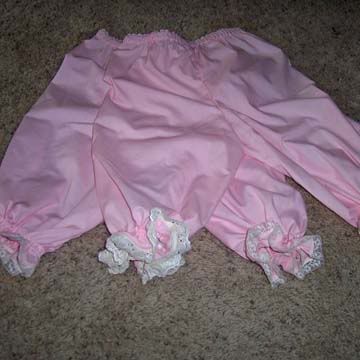 I have been meaning to sew these bloomers for about a year now. Its a good thing I finally got around to it, because they barely fit her. They have about another 3 days before she grows out of them. (just kidding...but maybe not...)
How to explain this next project. Let me see. Saturday evening, I decided it high time to knit. I felt compelled to grab that sampler afghan and work on it. I found the basket with my completed squares but the pattern book was not sitting with it like I distinctly remembered. For the next hour and a half I searched my house, top and bottom, to no avail. The pattern booklet vanished off the face of this earth. Where? How? Who? I do not know. But I cannot find it. Of course, all this searching for the pattern made this this ONLY project I desired to work on.
Sunday afternoon approached and I needed a knitting project and quick. A girlfriend was due to come over to knit and I couldn't very well crochet while she sat knitting. Not when my heart was set on knitting. So, I grabbed a book she loaned me a few weeks back and picked two projects from it. I stopped by the LYS and picked out the yarn. I allowed Chloe to pick her own color for a hat for her.
The amazing wonder of the entire situation is that once I got over the fact that I couldn't knit my afghan, I got busy and finished the hat in one evening. And a darling little hat it turned out to be too.
I learned how to knit an I-Cord. Wooo Hooo! I thought it would be difficult and so badly wanted to knit that afghan instead but once I started it, it flew out of my fingers.
Now I just need to decide what to tackle in my 50% declutterment goal. The fabric scrap tote? The yarn dresser? Maybe the drawers of my sewing desk. (You don't even WANT to see the inside of those. Especially if you thought the sewing room looked bad last week.) Have a fantastically sunshiny day...all day long.