Uh-oh. Oh no. I've done it again. You see, it began with good intentions. The birthday dress progressed along at a snails pace. I feared the loss of electricity during the historic blizzard which blanketed my world this weekend. Put those two facts together on the same day and you have a yarn store splurge. I needed a knitting project "just in case" the power cut off.
Well, I am happy to announce that while we received 3' of snow in our backyard, our power hummed the entire time and we stayed perfectly warm and content. Did I sew the dress? Nope. I had power, right? Yes. So why didn't I sew the dress? How could I when the weather outside froze water? The knitting called me. The bright watermelon color whispered in my ear (or yelled across the house when I tried to lock it upstairs in the sewing room) and I caved. I knitted a dress with the lights on.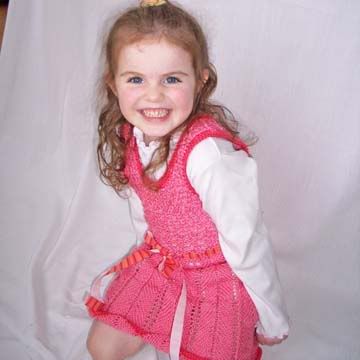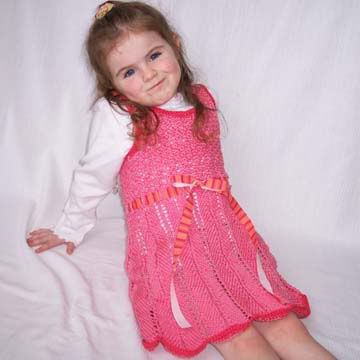 I used 3 1/2 hanks of
Tahki Stacy Charles Classic Cotton
for this
Elenka
dress I found on
Knitty.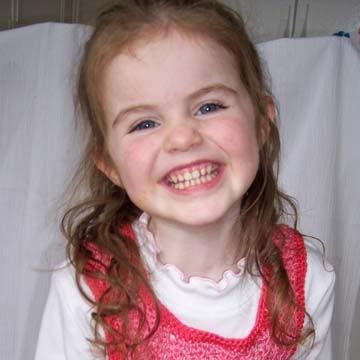 The good news is despite all my errors and mistakes, the child LOVES the dress and preformed quite a few ballet dances for me while wearing it today. So, the yarn I chose proved a bit smaller than the recommended yarn. The pattern calls for Lion Brand Cotton Ease. I lengthed the bodice by about 4 inches and it looks exactly like I lengthened the bodice by 4 inches. The dress also sports a line across the middle of the bodice. I have no idea why. It looks terrible. The dress is also on the small side. I struggled with the daisy stitch. Cotton yarn doesn't have much give and so my fingers wore out trying to stuff the needle through 3 stitches at at a time, twice. I actually have a little callous on my right hand thumb. The crocheted trim on the bottom only half helped the rolling of the stockinette stitch. I think I am going to have to block this dress. UGGGG!
Other than that, the dress worked up nicely and I am quite pleased with it. I have to tell you...this was my first attempt at a knitted garment. With that in mind, I think it turned out very nice.
Now, I have a dear knitting friend who braved the icy roads to take me to a yarn store this morning before another snow storm hits. I somehow came out with yarn. I don't know how that happened, but it did.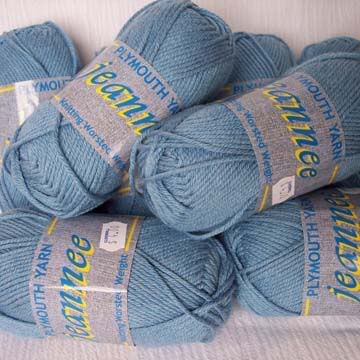 Oh, but its such lovely yarn. 8 balls of it. Plymouth Jeannee. 51% cotton/49% acrylic. I am not a huge fan of acrylic, but it did make this yarn a bit cheaper than the 100% cotton I had my eyes on. And I love the color.
I did make a rule before I allowed myself to carry the yarn to the clerk. I MUST finish the birthday dress FIRST. I also must complete FOUR other projects from my WIP list or my sewing room BEFORE I crochet the delicious top I have in mind for this yarn. What top might that be? Oh, the
Tangerine Top
by
Mary Jane Hall
.
So, I had better run along and finish up that birthday dress "just in case" the power goes out with the storm that appears to be arriving any moment now. I might or I might not post some snow pictures from our weekend blizzard. I haven't decided yet.