If, after reading the title, you thought this post would be about the Winter Olympics 2010, you were mistaken. I am very sorry to disappoint you. My post pertains to a different subject matter entirely. One that started with this...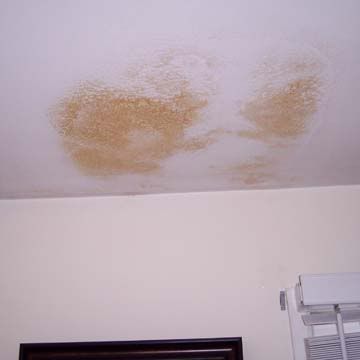 ...which I found on the dining room ceiling during my spring cleaning mission yesterday. I touched it. Wet. Uh-Oh!
I sat down to knit. That didn't last long. The spot bothered me. I didn't want to know, but I ventured upstairs anyways to locate the source of the wetness. (Visions of falling through my ceiling into my dining room while I slept in the middle of the night keep coming to me so I opted for investigation.) I found this on the back of my nightstand...
...and said, "Crumbs!" fairly loud, followed by a few, "Oh no's" and an "I don't want to deal with this. When is James getting home?" I felt the floor near the wall and my hand came away wet. I felt the wall. Wet. I put my finger through the wall at the ceiling.
And almost through my wooden windowsill.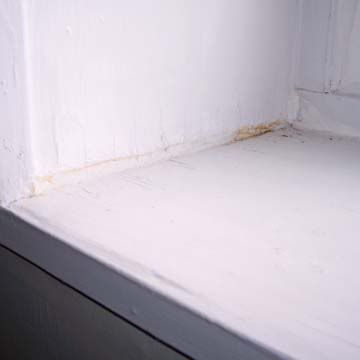 I did NOT want to find a leak in my bedroom. Especially considering everything else we've been through the past 6 months. The toilet is broken. The bathtub is broken (I can still shower, I just can't bathe Chloe). James computer is broken. The shed is broken. The closet doors are broken. Two of our four faucets leak. And not to mention the seizures, the head injury, the baby strangulation and everything else. I did NOT want to find a leak in my bedroom.
I almost lost it. Almost. I came so close to climbing into bed, never to exit that comfy hiding place until James walked through my door. I came close, but the Lord spoke to my heart last night. He would not allow me to cave in. You know when they say the Lord is your strength? Oh yes. This is true. So very true.
My eyes were not focused on Jesus. They were focused on my circumstances. And let me tell you, they are not the most pleasant circumstances to find yourself in. (I am sure many of you can tell me stories of horrible circumstances you find yourselves in at this very moment too.)
James 1:2-4
"Consider it pure joy, my brothers, whenever you face trials of many kinds, because you know that the testing of your faith develops perseverance. Perseverance must finish its work so that you may be mature and complete, not lacking anything."
God brought this verse to mind yesterday afternoon. I realized that my faith is being tested. I realized as well, that I must persevere in my faith, refocus on the Lord Jesus Christ, so that I may become mature, complete, not lacking anything.
I Peter 1:3-7
"Praise be to the God and Father of our Lord Jesus Christ! In his great mercy he has given us new birth into a living hope through the resurrection of Jesus Christ from the dead, and into an inheritance that can never perish, spoil or fade—kept in heaven for you, who through faith are shielded by God's power until the coming of the salvation that is ready to be revealed in the last time. In this you greatly rejoice, though now for a little while you may have had to suffer grief in all kinds of trials. These have come so that your faith—of greater worth than gold, which perishes even though refined by fire—may be proved genuine and may result in praise, glory and honor when Jesus Christ is revealed."
Ahhh ha ha ha. There's that gold. My faith in the hope of my salvation is more precious than gold, more costly than gold, more valuable than gold. My hope is in My Lord and Saviour. My Redeemer. My future salvation. This is why I can rejoice and consider it pure joy when I find a leak in my ceiling. My hope is not in my home. The walls about me may crumble. My computers may fail. My car may die. But my hope lies in nothing this temporal earth offers. My future is sealed in Christ Jesus who will save me and welcome me with open arms to spend eternity with Him. In light of that, who cares about the water draining down the wall? I sure don't. I am thankful for it. Thank you Jesus for my leaky roof. Thank you! My faith was tested and I pray I passed the test and developed a deeper perseverance and a more genuine faith.
(P.S. The roofer stopped by this morning and sang something to the tune of $6,000 and a new roof - better than the $15,000 my non-roofing husband quoted me yesterday. He also informed me that this will be a common occurrence in the next few weeks as the snow starts to melt on other houses and the water has no where to go but in. We just aren't built for 5 feet of snow in one week. Its not really something we could have prevented.)