I spent about 3 hours sewing yesterday and have a delightfully pink bodice to present to you.
I am using
Simplicity 4764
to create this gorgeous dress. I opted for view "D" but altered it a bit to include sleeves. I am also changing the overskirt to be a coordinating fabric (the pink sheer with pink glittery swirls)instead of the same pink satin. I haven't decided yet as to whether or not I will make the gauntlets. Chloe said she would like them, but I just don't know if they would look the same with the sleeves. I will have to think about it.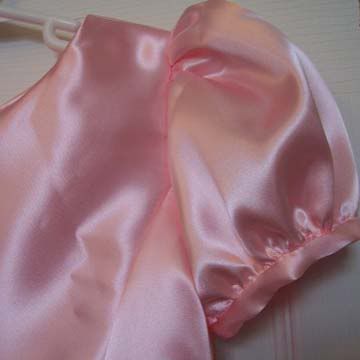 I have sewn enough toddler sized sleeves in the past 3 years that I feel quite comfortable with them now. I have no trouble sewing around that tiny curve any more. When they say that practice makes perfect, they weren't kidding. There are just those things that one must continue practicing until one gets it. Sleeve curves must be one of those things.
The two major differences I see already between this dress and her
birthday dress last year
are the princess seams and the sleeves. These sleeves were gathered around the bottom edge and then the band attached. I like the effect. It gives a certain professional feel to the dress. And I also just noticed (after looking at the pictures) that her dress last year had a collar. This one does not.
So, I hope to get somewhere with the skirt of this dress today. We have something like 4-5 layers of skirt. This is one hefty dress. But it is going to be
oh-so-beautiful
.