You asked for it and now you shall get it. Yarn pictures. Wonderful, scrumptious and divinely enticing yarn. I won't waste any time here with formalities. Let's just jump right in and look at this yarn.
First, we have some Rowan Kidsilk Haze (70% kid mohair/30% silk).
Add some Araucania 100% cotton and you have the beginnings of a luscious scarf.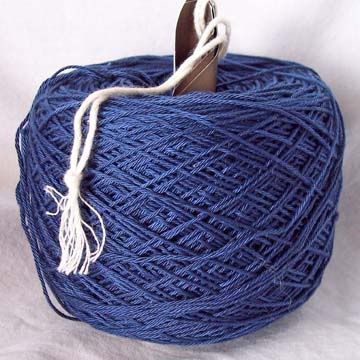 I plan on making the
Lace Scarf from Feminine Knits
with those yarns. Uuuummmmm....yummy!
Next up, some classy 100% Pima Cotton by Cascade Yarns. I plan on knitting the
Spring Garden Tee
for Chloe this spring in this heavenly shade of blue.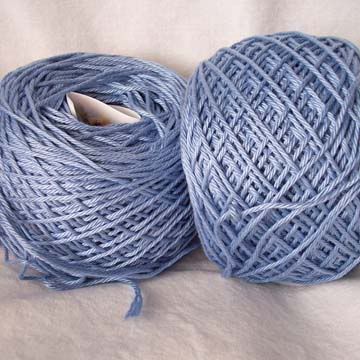 This next yarn sends tingles through my heart. I feel quite ecstatic when I think of the perfection this yarn encompasses. Check out the
Airy Wrap-Around Sweater
from the book
Fitted Knits
which I will knit up with this stunning yarn.
I failed at getting the coloring right in that photograph. Just know that its a lovely color of bright lime green which bewitchingly highlights my green eyes. Oh yes, I can barely contain the excitement I feel about this yarn and pattern.
My next yarn/project brings us back to the blue color scheme. I picked the same Araucania 100% cotton as the scarf to knit this elegant
Bolero
from
Feminine Knits
. Its more of a teal blue but I love the feel of this cotton. Absolutely superb.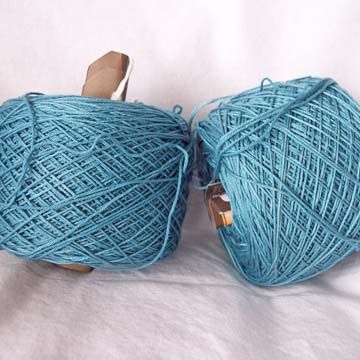 The only problem I came across in my yarn shopping excursion was this magnificent 100% Bamboo yarn by South West Trading Company.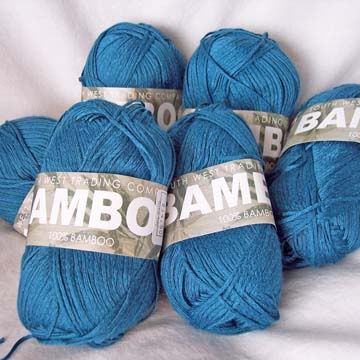 Don't get me wrong. The yarn is fabulous. I adore it. We got the yarn size wrong when trying to find yarn so I could crochet this
Spiderweb skirt
. For some reason, the sales clerk thought the yarn would be a European DK weight yarn, not worsted weight. Well, I could not obtain gauge with the Bamboo. You can well imagine my disappointment with that fact. I bought some Berroco Weekend 100% cotton yarn today from my LYS so I could crochet the skirt. I will have to find something fabulous to make with my 6 balls of Bamboo. (Especially since it cost $14.50 a ball.)
Last but certainly not least (seeing as how this will be my favorite project) is this lovely Vintage Cotton by Karabella. My main goal for our NY trip was to find yarn to make this
Lace Tiered Skirt from Feminine Knits
and to also purchase some Karabella yarn. Imagine my excitement when both fancies coalesced with this Vintage Cotton.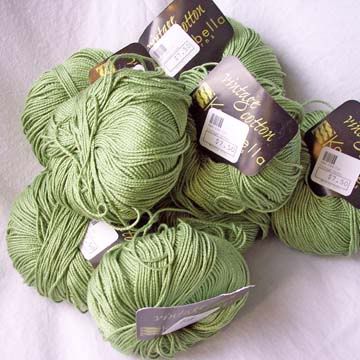 My only problem now is which project to begin with. Oh, what a problem to possess!