What an exhilarating weekend! A complete whirlwind of delicious yarn and gratifying food. Nothing beats NYC. Nothing. I cannot tell you how elated I am to procure a girlfriend who loves
The City
as much as I do. Daunted by the Subway? Not her. Daunted by miles of walking? Nope. Foodie? In every sense of the word. The clincher? She drools over luscious yarn as much as I do. She warns me not to look at the price of absolutely magnificent
Lantern Moon needles.
She perceives which yarn stores rise above the rest and directs us to those choice locations for our unadulterated yarn perusal. What a gal. What a absolutely splendid and skillful accomplice.
Our first stop,
The Wool Gathering
.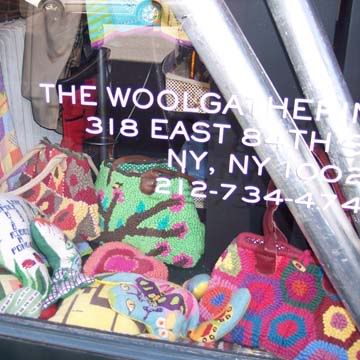 This shop retains two redeeming factors and only two. The window display garnered a few ohhhs and ahhhhs from my smiling lips and I acquired 100% Pima Cotton at a decent price. Other than that, we left this shop with a sour taste in our mouths and slightly deflated spirits. I began to wonder if our trip to NYC for yarn would prove worthwhile.
The shop owner could not fathom the fact that we desired to knit/crochet wearables for ourselves. We were informed to run out and by our clothes at the Gap because they were much cheaper than yarn and we needed to spend our money and time purchasing yarn to knit afghans. Afghans are heirlooms, after all. Why waste our time knitting clothes for ourselves which are "NOT heirlooms".
When we asked about yarn substitutions, she informed us that all we needed to know was what size needles the yarn called for which we needed substituted. I am desperately sorry, but no. That is NOT all you need to know when making a yarn substitution. You must know weight of yarn, yardage of yarn and with clothing, type of yarn. We quickly located the Pima Cotton and attempted a hasty exit. Lo and behold, a new customer walked in as I tried to hand the owner my card to pay for my purchase. My chatty girlfriend struck up a conversation with another shop employee to pass the time while I paid for my yarn. When the owner saw this, she started to ring up the "new customer" and turned to me and said, "because your friend is chatting with so-and-so, I am going to ring up this person instead of you." Did I mention I stood at the counter with my card at the tips of my fingers trying to hand it to her? She had already rung my purchases into the till. All she needed to do was scan my card, let me sign the slip and I could be on my way. But no. She felt the need to help another customer find the right needle size, talk about yoga classes with her and then finally ring her up. All the while, my card is still in my hand, ready to pay for my purchase.
If you happen to knit afghans, you may have found the perfect yarn store. If you knit anything else, well...you would probably be wasting your time at this store. I gave it two thumbs down.
Next stop,
S'mac
. Not a yarn store, but we desperately needed fuel and a place to lick our wounded spirits.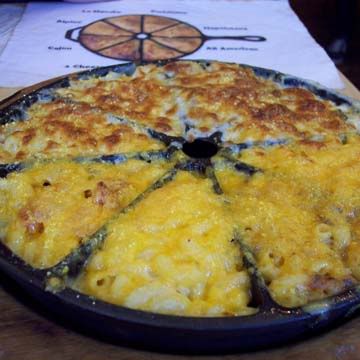 Can you fathom it? An eatery that sells only mac and cheese. Could you think of a better restaurant or a better menu? I happened to see a couple of salad options on the menu, but seriously, they did not need to include those. Anyone who walks into a macaroni and cheese restaurant does NOT want to eat a salad. Amy and I chose the sampler pan. 8 different versions of a classic carb overload. We tried Parisianne, Cheeseburger, Cajun, 4 Cheese, All-American, La Mancha and two more I can't recall at the moment. My favorite happened to be the Cajun. Yum!
We felt a bit better after such a comforting lunch so we headed to yarn shop number two.
Downtown Yarns
.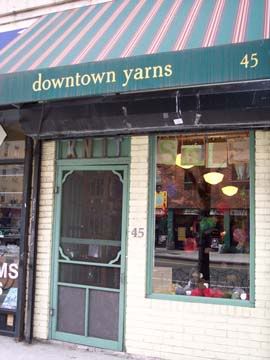 If you felt the need to visit
The Wool Gathering and found it lacking, venture on down to this shop for instant redemption. The minute you walk through the cozy screen door you will be greeted with an immense smile, an ebullient hello and a friendly hug as if from a long-time friend. These young ladies will spend the time with you to make sure you are pleased with your yarn choice. When Amy wanted to test a yarn, they dug out a sample skein from their drawer to let her gauge swatch with. Talk about hospitality. Downtown Yarns will on the top of my list next time I venture up to the City for yarn.
While we did, indeed, feel much better about our NYC Yarn shopping trip after lunch and
Downtown Yarns
, we needed to walk over to
Sugar Sweet Sunshine
for the world's best cupcake.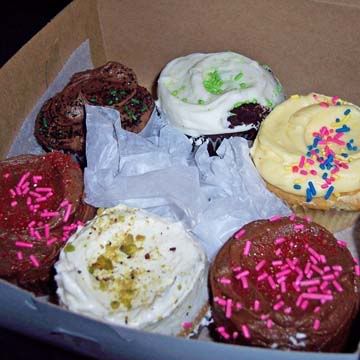 My favorite cupcake would have to be the Pistachio cupcake. I can't quite find the perfect words to describe this scrumptious taste of heaven. I have never in my life tasted something as delectable as the Pistachio cupcake. If you visit NYC, you really MUST stop by Sugar Sweet Sunshine to rest your feet and grab a cupcake and coffee. You will not be disappointed. I promise.
So, this post seems long enough for now. I will leave telling you about the best yarn store for another post at another time. I also hope to photograph the exquisite yarns which now reside in my stash to show you. Soon. Very soon. Have a fabulous afternoon and a marvelous evening.