Oh my goodness gracious! I cannot believe how much fun Chloe's fifth birthday party was. We had an absolute
blast!
It will be extremely difficult to create another party as fun as this one was. I have TONS of pictures to show you all and which will hopefully describe in detail the party so you can duplicate it if you wish.
First, the decorations...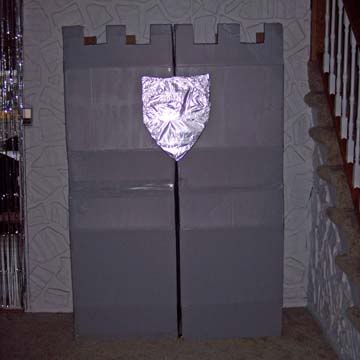 I painted those boxes silver and taped them together for the castle towers. The plan was to set them outside the front door but since we received bucketloads of rain that day and the previous one, we moved them inside. The kids anticipated playing in them the
entire
party. (Unbeknownst to them, balloons filled the towers which we dumped on them when it was time to play in them.)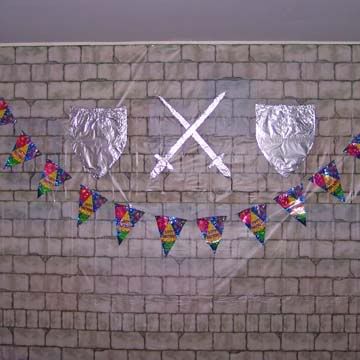 My rock wall. What a great investment. I have no idea what I will use it for in the future, but it was perfect for this party. I cut out shields from foam core and covered them in aluminum foil. I did the same for the swords and hung them onto the rock backdrop with duct tape.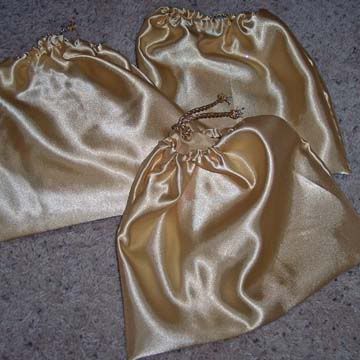 The goody bags I sewed with gold glittery fabric. I wove gold rope through them to tie them shut. Inside I place some fairy tale finger puppets and knight stickers for the boys and princess stickers for the girls. They hunted for gold covered chocolates I hid in the living room throughout the party and put them into a "treasure chest" shoebox I covered in aluminum foil. I divided out the chocolates at the end of the party into their goody bags along with the candy from the pinata.
When the children arrived, they walked along the red carpet to the corner of the room where I dressed them up in their costumes. Knights for the boys and maidens for the girls. I purchased the hats off the internet but everything else I made myself. I even had a jewelry box with fancy jewelry (dollar store stuff) for the girls to pick out something pretty to wear. After they finished dressing, they stood by Chloe for a picture with the princess.
Then off to make their shields with James.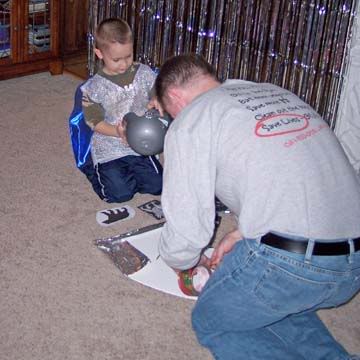 Once everyone arrived, we were ready to begin the games. Oh, this was the best part of the party. First we jousted. I brought down Chloe's stick horse which they rode across the room and tried to insert their sword (inflatable ones I bought off the internet) into a ring which James moved up and down to make it a bit more difficult.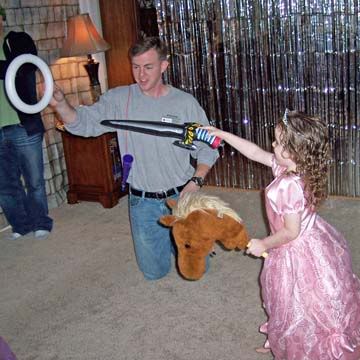 After the jousting we fenced. That didn't go so well as the children kept smacking each other in the face instead of trying to get the crepe paper off their opponents waist. After a couple of tries and a few tears from a certain little girl, we moved on to the catapulting. The children didn't care for this game very much as I believe it was a bit difficult for their motor skills. I gave each side a towel and they needed to catapult them to the other team. They asked if they could not do this again. I said yes.
Story time. I read St. George and the Dragon to them while James hid around the corner getting ready for a surprise.
And then, out came a real live dragon!!! The dragon stole a
baby doll
...oppps...I meant fair maiden which the children needed to rescue.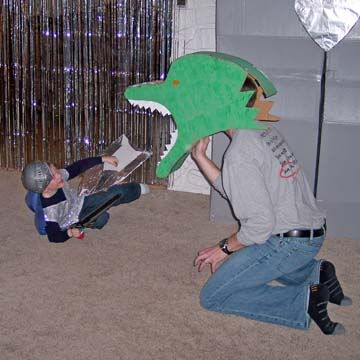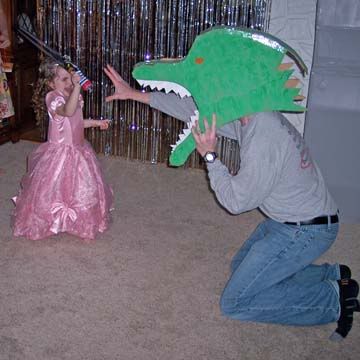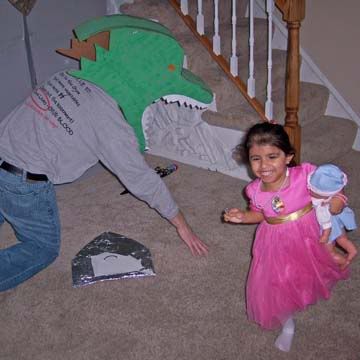 Once the maiden had been rescued numerous times, it was time to slay the dragon, once and for all.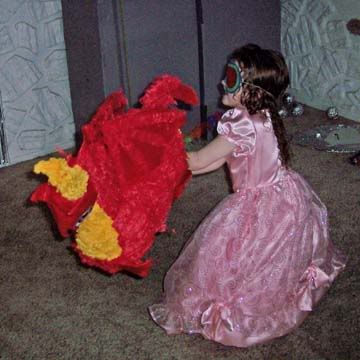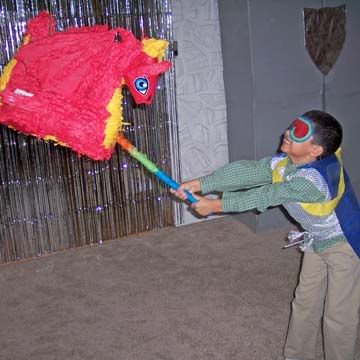 Once the evil dragon was slain, we awarded the children with certificates of bravery I printed off with their names on them. They read,
"This certificate of bravery is hereby awarded to "[Sir/Maiden] child's name" for [her/his] great bravery and courage. By her majesty Princess Chloe. March 13, 2010."
When their name was read, they walked forward on the red carpet to kneel before the princess and become knighted.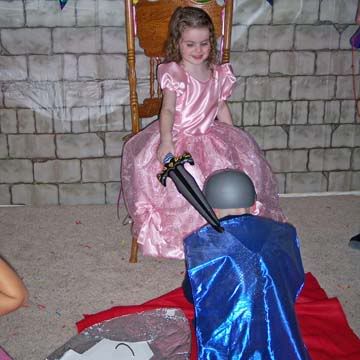 After the knighting ceremony the feasting commenced. I provided fancy goblets for the children to drink their "grog" (2 parts ginger ale/1 part apple juice).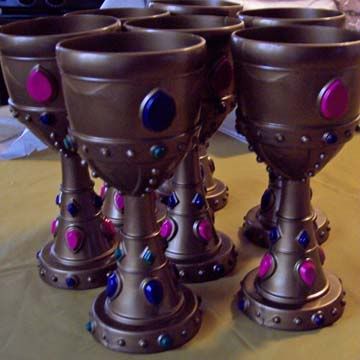 We ate dragon's teeth (almonds), dragon scales (baked doritos), dragon meat and cheese (meat and cheese) and jewels (red, green and yellow jello cut into diamonds). Then it was cake time. The most important time of any party. I felt disappointed with how this cake turned out. The entire party was planned around this cake and it turned out nothing like what was in my head. Chloe adored it though and that is all that matters, right? James told me to practice, but seriously, how many castle cakes can one family eat?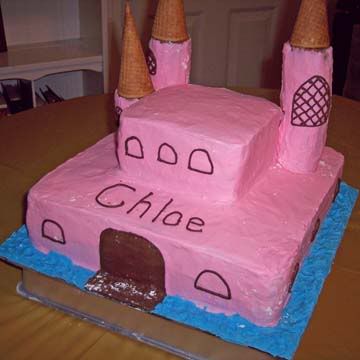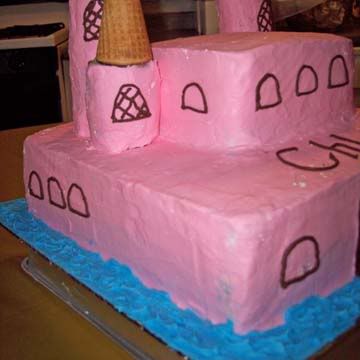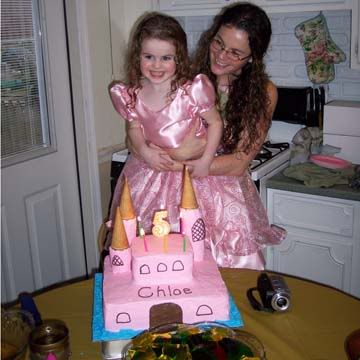 My little girl is not longer a baby. I can't believe my princess is now 5 years old. It doesn't seem like that long ago I gave birth to her and held her in my arms. Now I hold her in my arms and half the couch. She is such a precious little girl. Full of smiles (just like her Mama was at her age) and such a joy to be around. Chloe truly is a joy to raise. She brings giggles and tummy laughs into this home. She loves to help and is one of the most generous little girls I know. She would give anything to anyone who asked for something of hers. She shares her things with anyone. Chloe is my gift from God. May I rise to the task of raising her into the lovely lady God wants her to be. I pray I do not stumble on this most important journey to ladyship.