Chloe has yet to see this dress finished. I tried it on her a couple of times to get the length adjusted (the thing was about 8" past her feet) but it will still be a sort of surprise to her when she sees it tomorrow morning as. I plan on hanging it in her line of sight so the moment she opens her eyes she will see clouds of pink.
I struggled sewing this dress. The four layers of skirt intimidated me and threatened to overtake me. But I triumphed victoriously and conquered the dress. I said, as I was sewing the yards of tulle for the underskirt, that I would never again sew a dress with tulle until Chloe begs me to sew her wedding dress. (That is,
if
she asks me to sew it at all.) Funny how time lessens aggravation. I've been seriously tempted since completion of this dress to make another one. I have no idea why that notion would possess me, but it does. Maybe its the darling bows on the over-skirt.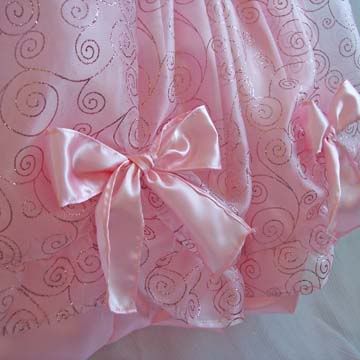 A couple of things to keep in mind when using some of the fabrics I used for this dress.
1. Tulle is extremely slippery and tears quite easily.
2. When using fabric swirled with glitter, be aware that the glitter will sprinkle off all over your sewing machine and in your sewing machine and around your sewing machine and all over your clothes and in your hair and all over the carpet and all throughout the house. You may even find that you begin eating glitter.
Just thought you might want to know that before you tackle your next glitter fabric project. I must be off now to finish up some last minute party decorations and decorate
the cake
. Have a fabulous Friday everyone.