I love embellishments. I don't understand why I constrain myself from embellishing more. Okay. Maybe I do understand and don't really want to go there. (Can you say...ummmm...
lazy
, perhaps?)
I took the time this past week to embellish an otherwise ho-hum dress to transform it into an enchanting flight of fanciful butterflies.
I have long admired those giant boutique bows for little girls that you can find all over Etsy like
here
,
here
and
here
. You can also find them on websites like
this
. Well, I finally broke down and purchased an
e-book
on how to make all these elaborate bows from
Sweet Baby Boutique
. I folded my ribbon according to the instructions but I left my tails long and used it behind my crocheted butterfly. What do you think? I felt proud of my first boutique hair bow embellishment.
I found the crochet pattern
here
for the giant thread butterfly. For the tiny butterflies at the shoulders I used this
Dainty butterfly pattern
.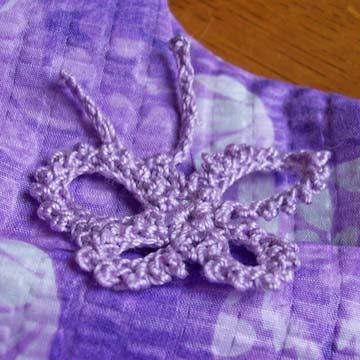 I am working on something fun this week to show you. Think Ric-rack embellishments. Oh boy. I am having fun with this one (in between my knitting sessions, of course). And I also have something else kinda fun and random to show you later. I must fix a slight problem with it and embellish it first but I should have it ready this afternoon or tomorrow sometime.
Go do something fun that makes you laugh.