I needed a break from routine and project "to-do" lists. I also received a huge box of new stamps, inks and papers last week to play with. Combine those two facts and you have the beginnings of a card making week. I dug out all my supplies yesterday and have been making cards like crazy for two days. I failed to photograph the cards I completed yesterday and unfortunately they are already en route to their final destination...Mercy Ships. I did, however, photograph the cards I made today to show you all.
I made two of those cards. So cute. The stamps are Stamping Up. I have no clue if they are discontinued or not. I used a watercolor pencil and blending pen to make the yellow blankie sticking out of the baby carriage.
This set of stamps came from Close to my Heart (which I now sell to myself...he he he) and I was not fond of them at first. A stamping friend told me of the forum/website called
SplitCoastStampers
and I typed in the name of this stamp set and found a plethora of ideas. I have fallen completely head over heels in love with this stamp set.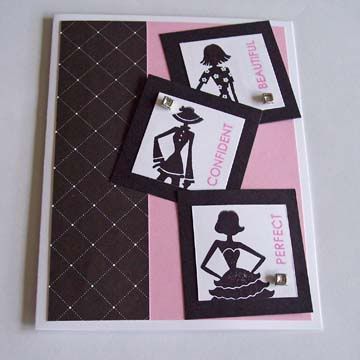 While perusing that stamping site, I stumbled upon a section for challenges. Knowing this was right up my alley, I plunged forth with yesterday's challenge. To create a card with an angle. I made a few yesterday that I failed to photograph, but here is the one I finished up this morning.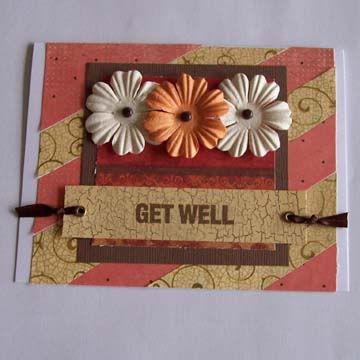 Today's challenge was to create a quilt card using scraps. Oh boy, do I have scraps. Another challenge right up my alley. I went a little crazy and made three quilt cards. They got much better as I progressed.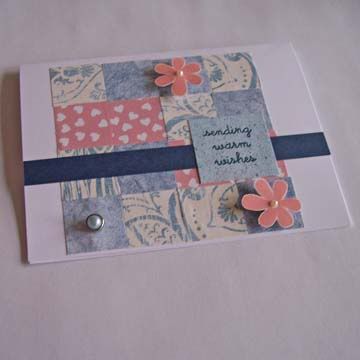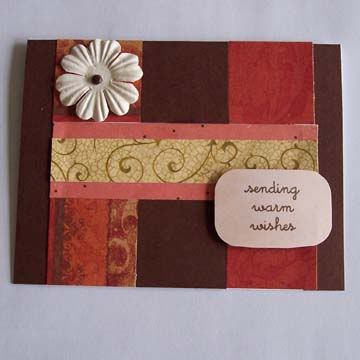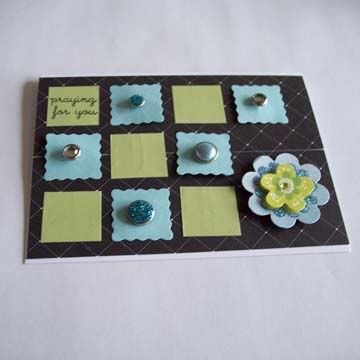 That last card is my absolute favorite. I adore it. It's amazing what you can do with scraps. The blue color actually came from my friend's stash of supplies. They have been sitting in a ziplock bag in her closet for years as she didn't quite know what to do with them. Add them to a few of my scraps and insert some sparkly brads and wow...what a card!
My friend also brought over a couple of her stamp sets. One of them was a seasonal set with a spider stamp in it. Okay. Most of the time people equate spiders with halloween (as was clearly intended in this set) but I saw the dear little spider's potential and came up with this springtime alternative.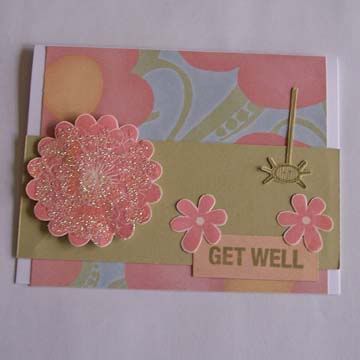 As she left this afternoon, my friend handed me some stickers from her stash and said I could figure something out with them. While not my style (and neither were they hers) I saw their potential as well (designer's eye, I guess), and came up with these bright welcome cards.
I must run along and prep the child for a night out at Awanas. Tomorrow I shall return to my card making craze. Have a fun and festive Friday night everyone. I will chat at you again soon.