Is this the week for embellishing or what? I must say I've desperately felt an urge to embellish my creations more this year. I added the book
Sewing with Whimsy
from
Kari Me Away
to my library last spring and dabbled in sewing up little flowers with ric-rack at that time. Yesterday, I finally dug out those little flowers, sewed up a couple more and embellished a fun little dress for Chloe.
So, about the dress. I created this dress from my head. I had a bit of this fabric that was not enough to actually use a pattern for but I was dying to make Chloe a dress with it. I didn't want to sew a "pillowcase" dress with it. I wanted something else. So, I used the bodice pattern found in this
adorable Etsy shop
(more on that to come in the next couple of weeks)and added my own skirt to the bottom. It turned out okay. Just okay. Its the fabric that makes the dress.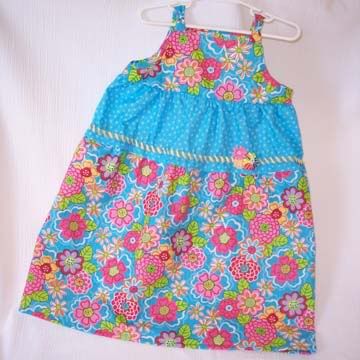 I simply adore these little ric-rack flowers though. How I wish I were better at making them. Oh well. Practice makes perfect. I will keep plugging away at it and maybe someday will be good at making them for a special occasion dress. They are fun to make and sure do add a dazzling finishing touch to the dress.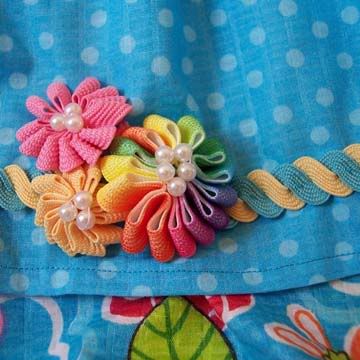 I hear a razor cami calling my name. And I just realized last night that Easter is
this Sunday
. Oh boy! I've not prepared the eggs. (I've not even purchased the eggs to prepare.) I better get on with my day! And maybe, just maybe, I might have a surprise up my sleeve. You'll have to wait and see.