Even Mama's deserve toys every now and again. I dragged Chloe to a card-making workshop yesterday. Okay...so maybe dragged would not be the most appropriate term here. There is a room in this house which contains a collection of every Elmo doll/toy imaginable. So, Chloe gets a little excited when I announce its "card making day at Miss S's house". Yes, she knows exactly where we are going.
Anyways, Chloe dragged me to a card-making class yesterday and she acted so beautifully the entire time. I am sometimes amazed that I can take my daughter places like that and she is such an angel for that length of time. I decided to reward her by taking her to the toy store and letting her pick out a rubber bouncy ball.
Then, I got to thinking. Do Mama's get rewards for being good? Ever? Okay. So I understand that Mother's Day was just this past Sunday and I got my "yearly reward". But seriously. That only occurs once a year. Chloe receives awards more often than once a year. Does that seem fair to you? I think not. I needed to remedy that yesterday. So, Chloe got her new ball and I got this...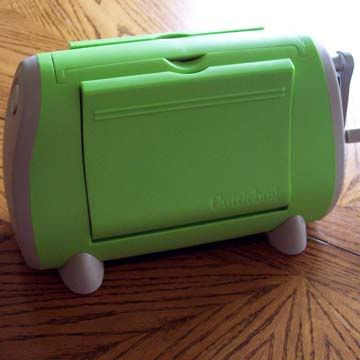 That, my friends, is a Cuttlebug. I have been eying it for some time. Researching on the internet. Ogling cards on
splitcoaststampers
. Drooling on the keyboard. You know the drill. Yesterday, I found this on sale at Joann's. (I won't tell you that I went to Joann's with the intent purpose of purchasing this, regardless of whether it was on sale or not. That would be entirely pointless.) And hey! You simply
cannot
purchase a Cuttlebug and not purchase a few folders to use with it.
Now I know that many of you might be asking yourselves, "Cuttlebug? Folders? Toy? What on earth is this lady talking about?." (If you didn't ask it out loud, I KNOW you thought it in your head.) Instead of trying to explain what the Cuttlebug does, why don't I just show you...
That, dear readers, was a flat piece of plain cardstock before I inserted it into the Cuttlebug. It came out the other side looking (and feeling) like that. Amazing, right? Oh my goodness, you should have heard me squeal when it came out and it
actually worked
. It felt too easy. The process was too simply. It didn't make noise. The crank handle turned effortlessly. BUT IT WORKED! Okay. I just HAD to try it again. This time I used the die cut first, then sent the cut image through a second time to emboss it.
Ohh ho ho ho. I am officially in love. James on the other hand? Not so much. He grabbed one of the folders and a piece of paper, stuffed it into the folder and proclaimed, "I could emboss this with my hands. I don't need some fancy machine." So, we tested his hands against the machine, side by side.
Nope. Sorry James. My Cuttlebug won. To which he replied, "But I bet you could use your rolling pin." I wonder why he didn't want to test it though? Interesting. I have a slight suspicion that he knew he couldn't beat the Cuttlebug, even with a rolling pin.
I just have to say, its going to be awfully hard concentrating on school work today. Especially with my new toy sitting on the kitchen table staring at me.