All winter long, Chloe's picked the book "Beach Day" from her bookshelf to read every night before going to bed...and every day before naptime...and every time I offered to read her a story. You get the point. She loved this book. Why?
Well, looking back, I now believe it had something to do with a dream she held in her heart. She missed her Daddy and in this book, the girl's Daddy took her to the beach with her Mama. They did things together as a family and they had a wonderful time together at the beach.
So, its no wonder that Chloe decided one of the things she wanted to do when Daddy returned home from Afghanistan was to visit the beach.
We finally headed out this past weekend, much to Chloe's delight. What a blast we had. A cold blast since the water pretty much numbed our extremities, but a blast none-the-less.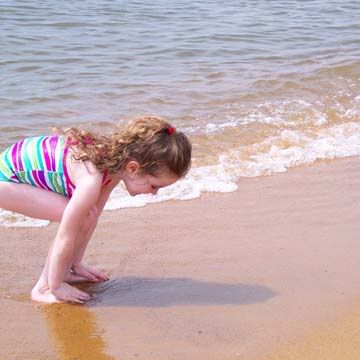 We are taking it easy this week. No running around like chickens with our heads cut off. Just a relaxing sort of week. The perfect start to summer, if I do say so myself. I have to say, its been nice. Really, really nice. Hopefully you all have been having some relaxing time as well. What are you doing to kick off summer?