While I do have mosquito bites up and down my legs and arms, I am not talking about those kinds of bugs. Nope. You are not going to believe what I am about to type. I assume that you are sitting down in front of your computer desk to read this but just in case you are standing in some random spot reading this on your phone or something, I ask you to please sit down. What I am about to type will most likely shock you silly.
Ready???
I brought my 10 year old quilt out from my closet this weekend to start quilting.
WHAT?????
Yes, you read that right. The hand-quilting has commenced on the queen-size quilt I sewed together over 10 years ago.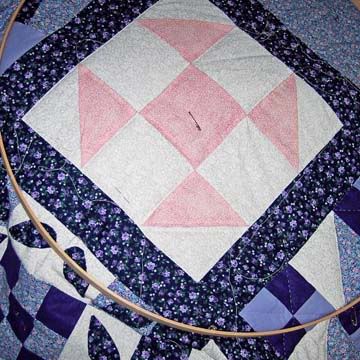 I feel quite daunted at the idea of hand quilting this entire quilt. James politely informed me a couple of days ago that I need to resign myself to the fact that it is just going to take me a LONG TIME (and then asked me yesterday if "HIS" quilt was finished yet because he was ready for a nap).
Anyways, I have three blocks completed at this point and at this rate I could have the quilting done in about two months. I know I won't be able to hold up to that kind of pressure though as my middle finger on my left hand feels tender and sore. Oh well. Like James said, its going to take a
loooonnngggg
time.
In other news, I knitted my tenth square for my sampler afghan. WooHoo.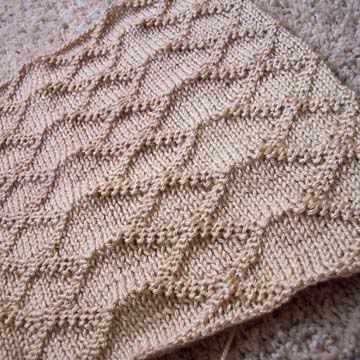 Now I am working on square number 11! This means I am a hair over halfway done! I am quite pleased with the fact that I knit much faster than I did 5 years ago when I started the afghan. That and my tension has improved dramatically. Who knows...this afghan might look semi-good!
Chloe begged me for two weeks to make her some jammies with this ballet fabric, so I did.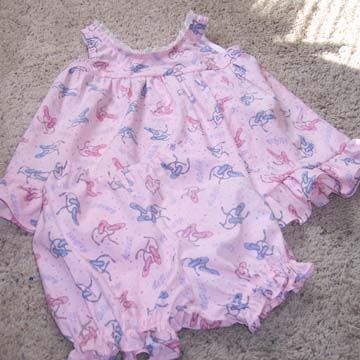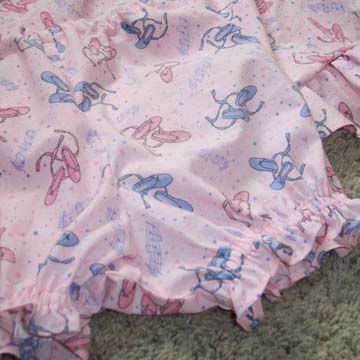 They turned out super cute. I made them in a size 6 for two reasons. One, that's the smallest size the pattern came in. Two, I figured Chloe could grow into them and wear them two, possibly three years. Lo and behold, they fit her just fine. Yikes! Since when did I give my little girl permission to grow? She didn't ask me...that's for sure.
And just to keep me inspired to keep working on my quilt, I've been cutting out peices for new quilts from my scraps.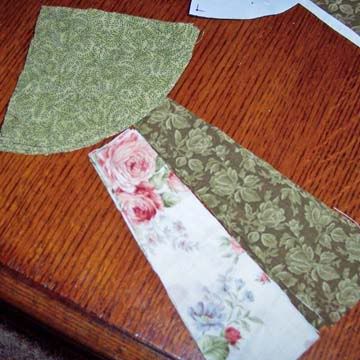 That will be a king-size quilt for my bed. I also cut out some cute sunbonnet sues to applique for a twin-size quilt I would like to get done for Chloe's 6th birthday. I dream big, I know.
I took a break yesterday from the knitting to put up a batch of strawberry jam. I am sad this year because we didn't get the usual amount of strawberries. I think it had something to do with all those blizzards. I just wanted one batch though and am very pleased that I was able to get it.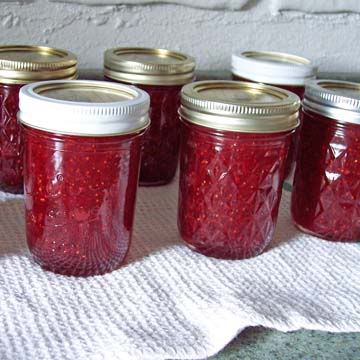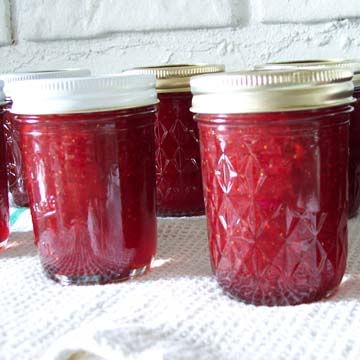 Tomorrow I am heading out with a girlfriend to pick sour cherries. If you've never had sour cherry jam, then you are missing out on one of life's best mini-pleasures. I hope to have a couple of batches made up tomorrow afternoon.
Well, I must be off now. Got a lot to do and not enough hours in the day. Happy Thursday everyone!