I think I shall start this post with the ugly and end on a good note. What do you all say? Always a good thing to look up, right? The glass is half full…or something like that.
So, would you like to see something ugly?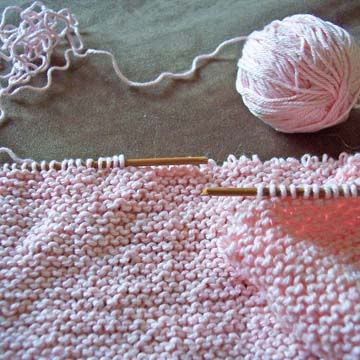 Told you it was ugly. And it gets uglier too. That needle is my Crystal Palace size 3. Yup. Horrifically and mortifyingly ugly. I can't bear to look at it another second. I will have to frog the sweet baby hat and start all over again. Its such an ugly place to find myself in that I fear I shall not even attempt at the same hat a second time.
And, moving on up the goodness ladder to "bad".
Alas, and I have run out of yarn to finish this wonderfully lacy skirt. ACK! I don't know if maybe it's an error on the patterns part or if I should have known I needed to buy extra yarn. I bought the amount called for and it wasn't enough. And to make matters worse, the pattern is nowhere near my ankles which is what the photograph portrays. I am adding another 3 rows (when I get another skein of yarn) to the bottom in hopes the skirt will lengthen itself to my ankles. So, the darling skirt must sit in a bag until payday when I get a bit of spending money in my pocket and can purchase a skein of yarn. (That would be tomorrow…so I don't have that long to wait.)
Now for the good news. I did not allow the Ugly nor the Bad to put the damper on finishing up projects. I finally settled down and plugged through the portions of my linen skirt that I didn't feel like doing (gathered pockets, pleats and such). I finished it! Hooray! I am so pleased with it too. I wish I could have finished it earlier so I could wear it in the spring, but oh…it will still be just as lovely in this summer heat. I will have to wear a slip underneath it though.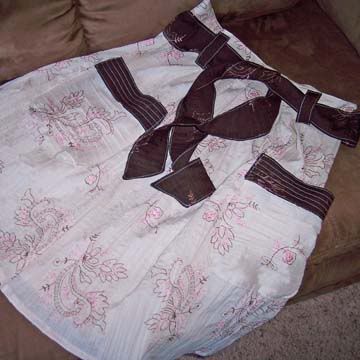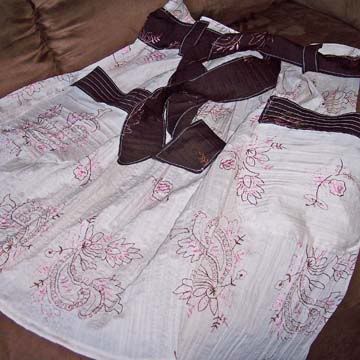 The only downer to this goodness is that I failed to switch to brown thread on the pocket bands and the edge-stitching on the carriers and belt. James said he loved the skirt (which is NOT normal for him…for ANY of my sewing projects I make for myself) and that he actually liked the stitching details on the brown and thought it was supposed to be like that. So, not really such a bad mistake after all.
And now I must be off to clean and clean some more and clean again. I shall attempt to chat at you again later today as I have a lot of stuff on my mind. Hope you all have a blessed Monday.