Our family loves bowling. I don't know why, really. I guess part of it is because James took me bowling on our very first date back when we were teenagers. There was not a lot for us to do in our town so we went bowling. We have loved bowling together ever since.
Last night we sped off to a nearby bowling alley for an impromptu game.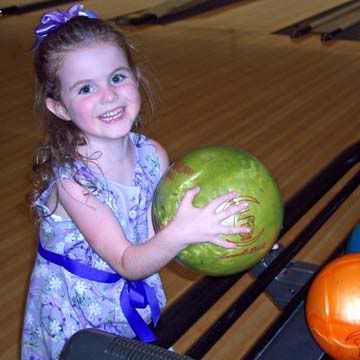 Check out that grin! I believe we have the start to a lifetime love of bowling, folks.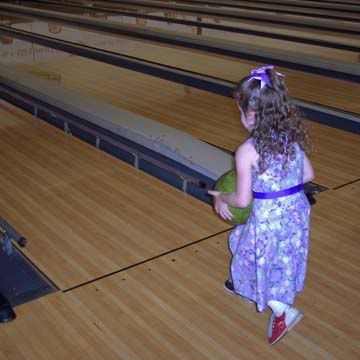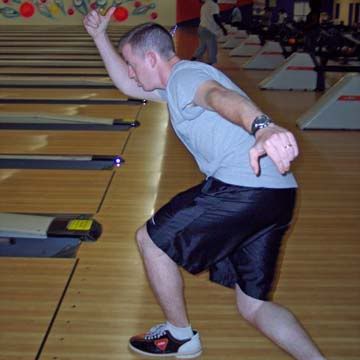 I started the game off with a strike. James came back in the final two frames to beat me by 11 points. I scored an even 100. HOORAY! I am always excited to break 100. James, on the other hand, should be bowling around 200 so he is obviously not on top of his game. I have carpal tunnel syndrome so the ball becomes too heavy for me to bowl properly after about two frames. I wonder what his excuse is?
I know I promised pictures of our Fourth of July camping trip. I am very sorry. We got out to our camping spot and I snapped a picture only to find out that my memory card was not in the camera. This means I was extremely limited as to the amount of pictures I could take and the chosen few were stored on the camera's internal memory. This means, in order for me to get the pictures onto this blog I have to walk downstairs and hook the camera up to the main computer and retrieve the pics. Do you think I can do that? Sure I can. But will I? Nah. I am too lazy for that. You may see the pictures sometime around Thanksgiving, if you are lucky.
I am off now to finish up a box with Chloe. You will have to check out our
homeschool blog
later today to find out what sort of box and why. Have a fantastic Friday everyone. Think of something you accomplished today and smile. Drink a cup of tea (or coffee) and indulge in something sweet as your celebration in accomplishing that.