Man, I am out of breath. Can you hear my heart pounding? I am sure you can, even through this here computer monitor. It's quite loud. Now physical activity is not what caused my shortness of breath. No. On the contrary. Life has. What a whirlwind life can be sometimes, can't it? Circumstances just sort of sweep in unexpectedly and take you for a roller coaster ride.
My latest roller coaster adventure involves a cake and some knitting. I received an email at some point last week reminding me of a baby shower this Sunday for which I volunteered to make a cake. Shwooosh! Thank goodness for friends who are on top of things enough to remind those of us who aren't what our duties are. I totally forgot about the shower and the cake.
I bought the supplies, baked half the cake (It was a two layer one so I baked one layer. I did NOT take it out of the oven halfway through the baking.) and then forgot about the cake again until someone reminded me Saturday evening at about 6:00 pm. I rushed home from our all day crafting event to finish baking the cake and began icing it at about 10:00 at night. Wow! Here is what I came up with for our "bright pink floral" theme.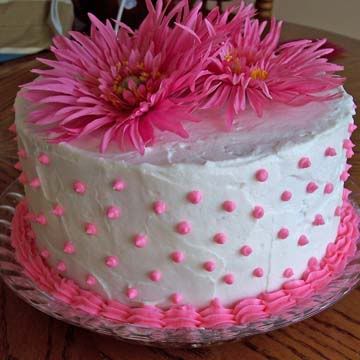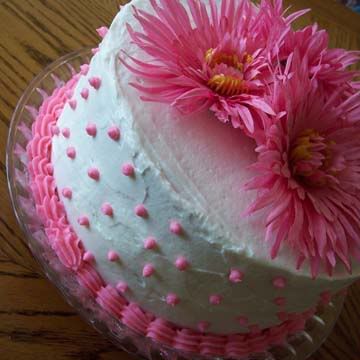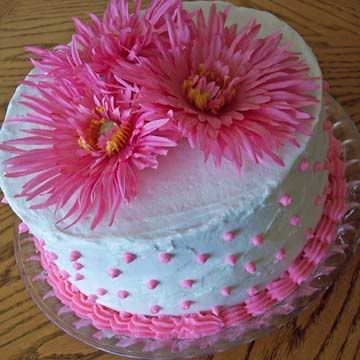 I now feel inspired to practice my cake decorating skills a bit more instead of waiting until the next function that needs a cake. Maybe that way I can improve my skills a bit.
In knitting news, I found some time to finish up a square for my afghan last week. Woo Hoo! Yay! Yahoo! Yippee!
And I will have another square to show you shortly since I worked on one the entire day Saturday at the craft day. I will be happy when this one is finished. Its one of those that looks quick and simple yet takes the longest amount of time and yarn to complete. It doesn't even have cables so I have no idea why it is taking so much of both.
I asked James last week which he would rather I finish. The queen size quilt which needs to be hand-quilted or this knitted afghan. I told him to pick the project and I would devote all my crafting energies into it until it was complete. He chose the afghan. I sure hope I can finish it soon so I can move on. I have some lovely sewing projects I would like to start on soon.
I am off now to update the
Homeschool blog
and then its time to fix dinner. Pot roast and potatoes tonight. Yum!