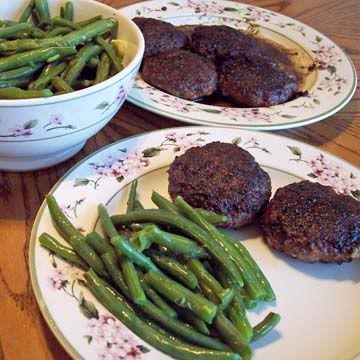 I've had an epiphany of sorts this week. It all started with that movie I watched on Saturday. Really, it did. I have always longed to be a good cook. I love food and I want to eat it...all the time. The problem is, I can't cook good food.
Oh, I can get by, don't get me wrong. I can follow a recipe and sometimes they turn out and sometimes they don't. The flops? They, more often than not, cost a lot of money and that fact alone frustrates me and causes me to rethink my cooking regime. I am then left in a puddle of frustrated tears and sighs and a "let's just order a pizza".
I can do better. I know I can.
I recently purchased a subscription to
E-Mealz
. I thought it would be a wonderful way to cook every night and I wouldn't have to think about meal planning or grocery lists and it would be easy. Some meals were okay. Others worse. I bravely fought my way through the canned biscuits on top of spaghetti. I muscled my way past water chestnut chicken bake. But I lost my nerve the night I was instructed to open a can of peas, heat in a saucepan and serve. Ugggg!
Canned peas?
You've got to be kidding me! How did I fall to such depths that I could serve my family canned peas? Am I really that terrible of a cook? I am waiting for the day I am told to make "chicken noodle soup" and the instructions will tell me to boil a package of top ramen and dump a can of chicken into it. It wouldn't surprise me.
Back to the picture above. I spent some time yesterday researching Julia Child's cookbook on the internet. I ran across this article titled
"Don't Buy Julia Child's Mastering the Art of French Cooking
" and the title alone launched me forward. (Rebellious spirit that I am.) I took to the nearest library and immediately checked out the cookbook. I spent the next hour reading through the introduction and the section on how to buy meat.
I believe this is the book that will teach me how to cook. Those hamburgers you see in the picture above were the absolute best hamburgers I have ever eaten. They didn't even have Worcestershire sauce in them. Just simple ingredients cooked right. And they were delicious. No need for cheese. No need for bread. The meat stood on its own and boy was it good. (Of course, the stick and a half of butter helped too. Butter always does.)
I am thinking I may want to learn how to roast a chicken tonight. The right way. (One of my husbands biggest complaints about my cooking is that the chicken is dry. Let's see if I can learn to cook moist chicken.)
I must be off to school now. We skipped school yesterday since Chloe was running a fever. And on another side note, I am 3/4 of the way done on my very last square for my sampler afghan. WOOO HOOO! I cannot wait to show you all.