I can barely breathe I am so excited. Wow! Who knew it would take me 5 long years to knit 20 squares for an afghan? I certainly did not when I first undertook this task. But, five years it took, indeed. Now, granted, I did not knit on those squares the entire time span. I knit a couple of squares five years ago and then the project sank to the bottom of my WIP basket, down there with
"the tablecloth"
and doily place settings I started eons ago. (They've been down there longer than the afghan, that's for sure.) I took the project out of hibernation last summer to knit a couple more squares and then it embedded itself back at the bottom of my WIP basket once more.
Sigh.
Little did I know when I made my New Year's Resolution to finish one of my larger WIP projects, that James would pick the afghan. I expected the quilt, or even the tablecloth, but never the afghan. Well, he did pick the afghan and I have been knitting like mad to finish it this summer. I cast off the last square two nights ago. And this square is, by far, my most favorite.
Gorgeous! Stunning! I love it. It's so fitting that the last square turned out to be the prettiest. What a way to end a project, right? Well, now I have to crochet an edge around these 20 squares and then join them together. Sigh, again. I can do it. I
can
do it. I CAN do it!
In other news, I finished another book this weekend.
"Lo, Micheal"
by Grace Livingston Hill. I don't know why I picked this book other than the fact I was decluttering the side tables in my bedroom and found this book in the bottom drawer and read it before putting it back on the bookshelf downstairs where it belongs. I really should have read one of the books I checked out from the library before they are due. I should have, but I didn't. I love Grace Livingston Hill. Such easy books to read and so wholesome as well.
Last night for supper, I cooked Garlic Soup from Julia Child's cookbook. I took one taste of it and thought I was in heaven. It was delicious. Scrumptious. Divine.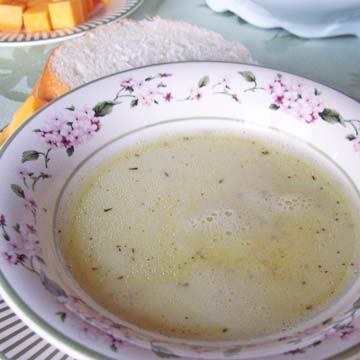 It took a while to beat 3 tablespoons of olive oil into 3 egg yolks by droplets, but the soup was ohhhh....
sooooo
worth the effort. James ate a few bites and informed me he loved it and it tasted good. I noticed later, during the course of the light meal, that he was no longer eating the soup and half his bowl remained untouched. This was after he enlightened me many times of his great hunger while I prepared the soup. Hmmmm. I questioned him and he simply said that, while he liked it the first bite or two, he later realized that for some unknown reason it didn't taste as good as he originally thought. That's really too bad because I loved it.
Well, now...I must be off to finish our school day (which is taking twice as long for some reason) and then plan a special surprise for dinner tonight. Oh boy! You will never believe it until I show you tomorrow. The likes of this particular dinner have never been seen in our home before. And it is sure to be exciting and entertaining. I will have to tell you the rest tomorrow though. Ta-ta for now.