Here's a little problem I have encountered a time or two when trying to take good pictures of delicious food. When I take the time to cook a meal right, we often eat late. For some unknown reason, I start cooking at the same time I normally would to boil a pot of water for spaghetti and throw in a jar of Prego. Why do I do this? I don't know. But, quite often, the sun vacates the sky before the dish exits the oven and I am left with a dark and horribly grainy photograph to present to you, my readers of this blog. Either I need a new camera, or I need to start dinner earlier in the evening...or both? (I dream big)
Please forgive me for the horrible pictures you are about to view. I have debated all day whether I would even blog about the food I cooked this weekend because the pictures were so terrible. I finally surmised the best thing would be to show you so I could at least write about it. (What good would writing about it without a photograph or two be?)
I roasted my first chicken this weekend.
Okay. I think it imperative to share with you at this point, before you get any wrong ideas, that this is my first attempt at a "real" roast chicken. I used to own a rotisserie cooker which I cooked a chicken in a few times. It was not worth the trouble to clean. I quit and threw the cooker in the garbage. I have even thrown a whole chicken into a roasting pan, dumped in some onions and carrots, covered the entire thing in tin foil and
called
it roasted. NOT the same thing. Not at all! (and can you say
dry as dirt
?)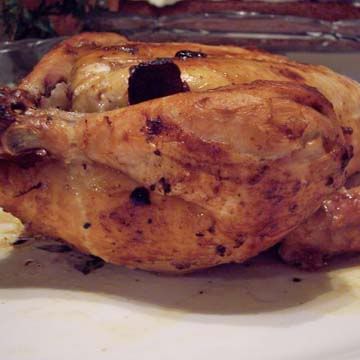 This chicken browned at 425 degrees for 15 minutes, basting and turning every five minutes. Then it roasted at 350 degrees, basting and turning every ten minutes. You basically don't leave the kitchen for two hours. (I took a good book with me and sat next to the kitchen table and read in the spare 9 1/2 minutes between bastings.)
The chicken was moist and delicious. Even James loved it and said it was the best chicken I have ever cooked. Hooray! Success!
But the absolute best part of the meal HAD to be the cake. Cardamom Buttermilk Cake to be precise. Can you say scrumptious? (There needs to be a word that combines scrumptious, delicious and magnificent all into one delightful word...)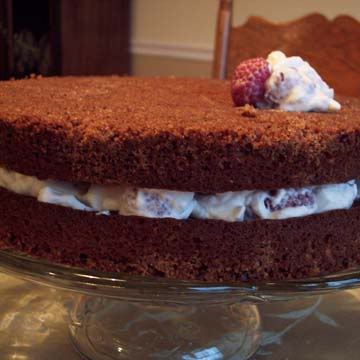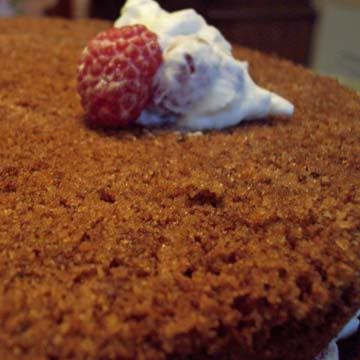 That would be whipped cream and raspberries on top. The filling is also whipped cream and raspberries. The bottom of each cake layer is finely chopped pecans mixed with sugar. Ohhhh, my goodness. Heavenly! The details in this cake made my mouth water while I was mixing and baking it.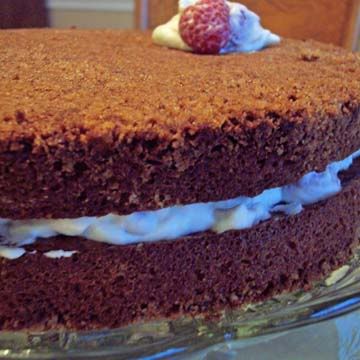 And now I leave you with some flowers from my garden flower pots. I purchased these from a $5 plant sale a local school greenhouse was having. I couldn't pass up the steal (all the plants you wanted for $5) and even if only a couple of the plants survived, it would still have been less than if I tried to buy the plants from a nursery. Here are quite a few of them and as you can see, they are certainly flourishing.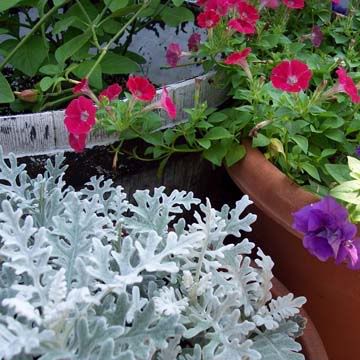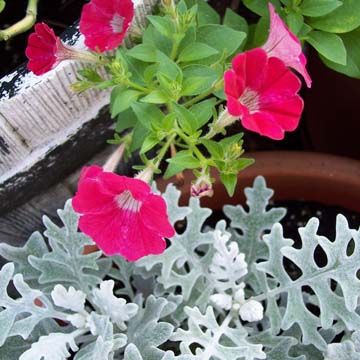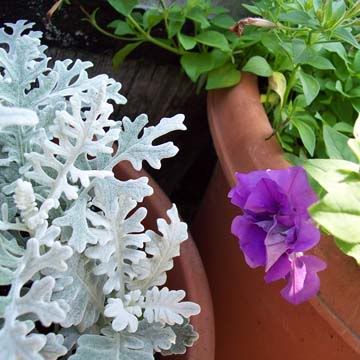 Well, I must be off to bed now. It's been an extremely busy day for us and I need some sleep...and soon. I have some fairly exciting news to share with you all tomorrow. Stay tuned!